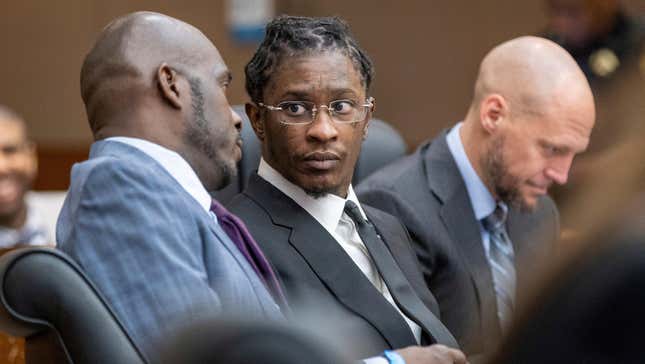 Ever since Young Thug, Gunna, and members of Young Stoner Life (YSL) were charged and arrested in a 56-count indictment, the trial has been filled with nothing but bizarre and shocking moments.

Making Love Songs: The Story Behind Method Man's "All I Need"
This is all while the fate of Young Thug, the leader of YSL, is still up in the air.
I'm not sure where to start, but the number of weird, whacky, and shocking moments, in this case have made this one of the most polarizing trials in recent hip-hop history.
Teenager threatens deputy
In June 2022, just a month after YSL members were arrested and charged in the case, an 18-year-old threatened to kill a Fulton County sheriff and his wife if Young Thug was not released immediately.
On Instagram, the teenager commented on one of Patrick Labat's posts, writing, " "#freethug or imma shoot u and your wife."
Young Thug sued while in jail
Jail does not stop people from wanting money they feel they are owed.
In August 2022, Thug was sued for $150,000 over a canceled concert that he was supposed to perform at on June 18, 2022. But thanks to his legal troubles, he was unable to perform and now the concert promoter wants their money back.
Judge threatens to arrest Gunna's family
In October 2022, as Gunna was denied bond for the third time Judge Ural Glanville threatened to arrest the Atlanta rapper's family members, saying, "The only thing I can potentially do, like I said, I will try the case as expeditiously as possible. But at this point in time, I don't find any change in circumstances that would allow me or move me to change my decision as to bond."
Shortly afterwards, people can be heard verbally disagreeing with the judge's words. Judge Glanville then responds by saying, "If anybody is in the gallery and you can't otherwise control yourself, or otherwise you want to make inappropriate comments, then you can leave at this point in time. No harm will come or nothing else will occur."
As people started to leave the courtroom, the Judge threatemns everyone, stating, "If you remain in this courtroom and make any outbursts, I'll have you arrested."

Young Thug attempts to make a drug exchange
In January, a video shows Young Thug and a co-defendant, Kahlieff Adams, making a drug exchange WHILE in the courtroom in front of the jury, lawyers, deputies, and witnesses.
The surveillance footage shows Adams approaching Thug as he's sitting next to his attorney in court and allegedly handing the Atlanta rapper a Percocet, a drug used to relieve pain.

A deputy saw the exchange instantly and confronted Thug, who handed the pill over. When deputies searched Adams, they found Percocet, marijuana and tobacco wrapped in plastic with food seasonings to hide the smell of the marijuana.
Lawyer in case threatens to make an OnlyFans
Attorney Angela D'Williams, a state state-appointed attorney in the YSL RICO case, threatened to start an OnlyFans if she and her colleagues are not compensated enough for their work.
In an interview with WSB-TV, she said, "This case is slated to last for about a year, and if you were to do the math, it would be six dollars an hour. I can't take any new cases. I can't close any cases. I need something to survive off of."
She continued, "We were under the impression that GPDC [Georgia Public Defender Council] was advocating for us, and once they put those walls up, I'm thinking I need to start an OnlyFans. I asked for additional funds back in March, and that was met with a letter from the director saying she doesn't need to meet with me anymore. I need to know what she has done to advocate for the appointed counsel in this case."
Young Thug releases album from jail
While this isn't directly involved with the trial, it's wild that the case's central figure has released a full-length album while still awaiting his fate.
A week ago, Thug and many other rappers shared a QR code with the caption "BUSINESS IS BUSINESS." The QR code sent people to a countdown to June 23rd.
It turns out he was referencing a studio album, which dropped on Friday.
The project features many notable acts including Drake, Lil Uzi Vert, Travis Scott, Future, and 21 Savage.
Someone noticeably not included in the record was Gunna, who is signed to Thug's YSL imprint and is thought by many in the hip-hop world to have snitched on his fellow YSL member.
In leaked audio of phone calls between Thug and fellow rappers Lil Durk and Lil Baby, Thugger tells them to save any responses they have for Gunna for his album, BUSINESS IS BUSINESS.
The ironic part of this is that neither Lil Durk nor Lil Baby were featured on the album. But the fact that this audio was leaked shows that thug clearly isn't happy with his "slime."