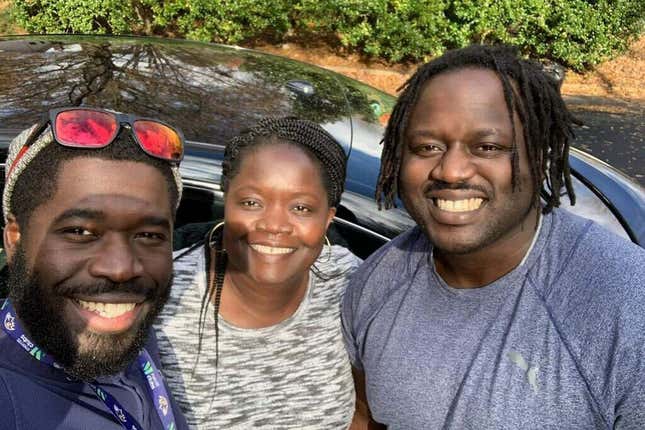 Updated as of 4/29/2023 at 3:00 p.m. ET
A Virginia prosecutor is seeking a trial for both the group of seven deputies charged in the death of Irvo Otieno and the three hospital workers who were charged as well. According to The Associated Press, the new filing describes Otieno's death as a form of medieval torture.

Small Town Horror: The Story Of A Deadly Amusement Park Ride
The video of seven deputies dogpiling themselves on top of Otieno until he stopped breathing was already disturbing. Now, his manner of death is being compared to something completely obscene. Dinwiddie Commonwealth's Attorney Ann Cabell Baskervill included the details in a motion filed Wednesday arguing the hospital workers and sheriff's deputies should be tried together in Otieno's death.

Unlike how a football player gets tackled on field by a bunch of 200+ pound men, this incident lasted more than just a few seconds, Baskervill said. Like George Floyd, Otieno died from asphyxia but his death was reminiscent of a method of execution and torture Baskervill recalled from the medieval times.

Read more from The Washington Post:

The prosecutor's filing included previously undisclosed details about the events surrounding Otieno's death, which she compared to a "medieval" method of execution called pressing.

"The significant external pressure … prevents adequate expansion of the rib cage during breathing, even though the airways may be clear," Baskervill wrote.

According to Baskervill, Otieno was taken from the county jail to the hospital on a temporary detention order for medical treatment. There, sheriff's deputies and hospital staff piled on him, and Otieno stopped moving as of 4:39 p.m., Baskervill wrote. Otieno had an enlarged heart and was at risk of acute arrhythmia as he was held down, she added.
Additionally, the prosecutor noted that once special agents arrived on the scene to gather evidence, the handcuffs and leg-irons used to bound Otieno had been cleaned and stowed in the back of a Henrico detention transport vehicle. It's unclear if she believes this was a tactic to tamper with evidence.

An attorney for one of the deputies charged called the comparison of Otieno's death to medieval torture a means to "manipulate the passions of the public," per AP.
Irvo Otieno's Manner of Death Revealed
The Virginia Office of the Chief Medical Examiner has ruled the death of a Black mental health detainee as a homicide, per CBS Richmond.
Irvo Otieno was determined to die by positional and mechanical asphyxia with restraint, according to his official autopsy. Reports say Otieno was being transferred to a county jail to the hospital for a mental evaluation when six to seven deputies pinned him down on the ground in the lobby.
Civil rights attorney Benjamin Crump said he expected this outcome given the graphic display of the incident through surveillance footage.
"The official cause and manner of death is not surprising to us as it corroborates what the world witnessed in the video. In a chilling parallel to George Floyd's killing, Irvo was held down and excessively restrained to death, when he should have been provided medical help and compassion. It is tragic that yet another life has been lost to this malicious and deadly restraint technique," he said in a statement.
Otieno's mother, Caroline Ouko, said she wants everyone to know the findings about her son as they're released. However, the Henrico Police Department is withholding the 911 call and body cam footage from when the police originally approached Otieno, per CBS Richmond. There's more to this than what we've seen.
Video Footage of Otieno's Death Released
The video footage of the moments leading up to Irvo Otieno's death was released by the prosecutor's office. The 28-year-old was seen bound by his legs and arms being pushed into the ground by at least seven sheriff's deputies.

The footage obtained ahead of public release by The Washington Post shows Otieno arriving at the hospital on March 6. The surveillance cameras capture him arriving at Central State Hospital around 4 p.m. He's brought inside shackled by leg irons and handcuffs while five officers drag him into the admissions area. They then forced him onto the ground and an additional two officers held down his legs while he sat. At some point, attorney Mark Krudys said one deputy appeared to be laughing. Otieno appears to continue moving, though not aggressively, leading all the officers and some hospital staff to join in restraining him on the ground.
From 4:31 to 4:40 p.m. there were nine to 10 people piled on top of Otieno, pushing him into the ground. After the crowd rose from his body, Otieno appeared limp and still.
Read more about the footage from The Washington Post:
One minute later, a medical worker lowers the top of Otieno's pants and administers an injection. He is still immobile. Resuscitation efforts, including chest compressions and defibrillator charges, take up less than one hour on the video.

The first call seems to come in at around 4:40 p.m. The dispatcher appears to have trouble hearing or understanding a woman who calls from the hospital to say that they have a patient who is no longer breathing.

"We have an emergency in building 39," the woman at the hospital says. "We have a newly admitted [patient] but he is no longer breathing. … The patient is a new admission and then he's very aggressive. So they're doing a CPR now. There's no pulse anymore."

The dispatcher responds: "I'm sorry, is the patient aggressive or is he not breathing?"

"He used to be aggressive, right," the woman at the hospital says.
Why Was Irvo Otieno Arrested?
Otieno was experiencing a mental crisis when his mother called a psychiatrist for help. She gave specific instructions to inform the police of the nature of the call. However, reports say the deputies who arrived in the neighborhood profiled Otieno as a burglary suspect.
As a result, seven sheriff's deputies involved in the incident were charged with second-degree murder as well as three hospital staff members.
Krudys and attorney Benjamin Crump said they viewed surveillance footage from the Henrico County jail in addition to the hospital footage. Otieno was held there for three days before being transferred to the hospital. It's unclear if those videos will also be released publicly but the attorneys described inhumane, heinous abuse being inflicted on Otieno.
"He needed mental health help, he needed help from physicians - not the brutality of correctional officers," Krudys previously said in a press conference.