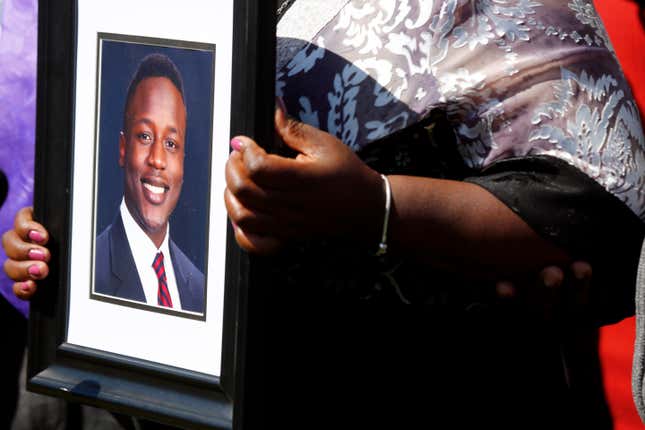 The family of Irvo Otieno, a mental health patient who died in police custody, gave the gruesome details of what they saw in the moments ahead of his death. Attorney Benjamin Crump the video was an example of the inhumane ways the police treat mentally ill citizens like criminals instead of people in need of help, according to the Richmond Times-Dispatch.

Small Town Horror: The Story Of The Cops Who Let A Man Drown
Outside the Dinwiddie County prosecutor's office, Crump joined the family of Irvin Otieno, 28, as they spoke about the contents of the surveillance footage related to the incident. Otieno's mother, Caroline Ouka, called a psychiatrist for help bringing him to a mental hospital. When the police arrived, they mistook Otieno for a burglary suspect and detained him. In the county jail, Crump and co-counsel Mary Krudys said Otieno was naked in his cell when the deputies beat him and pepper sprayed him. They also said the deputies bound him by his ankles and wrists and pinned him down with all their weight for what was estimated to be 12 minutes.
"Those three days at the jail were horrific. I've seen it in the video. Mental illness should not be your ticket to death. There was a chance to rescue him… and I don't understand how all systems failed him. My son was treated like a dog. Worse than a dog... He was treated inhumanely and it was traumatic," said Ouka.
These heinous descriptions were just from Otieno's time in jail. The description of the footage from the hospital was even more disturbing.
Read more from the Richmond Times-Dispatch:
In describing was on the video, Krudys described how Otieno was taken from the jail to Central State. "He's carried out by the arms and legs, almost upside down...they carry him like an animal into the vehicle. He's almost lifeless. Then he's transported to eventually Central State Hospital. Lights and sirens. Why? If there really was an important medical event that was occurring....why wasn't he taken to the hospital, literally one minute away."

"I was not really prepared so see this — it was a circumstance where you see seven deputies.. And the force of them, you can see they're putting their back into it. Every part of [Otieno's] his body is being pushed down with absolute brutality. You cannot even see his image all the time."

Krudys said he and Crump looked at each as the video played. "And we kept on saying ... why? Why is this occurring? He's in handcuffs and leg irons at that point. He poses no danger."
At the moment, Dinwiddie County Commonwealth Attorney Ann Cabell Baskervill said the surveillance video will not be released publicly as the investigation proceeds.
Misleading Initial Reports
Initial reports of the incident contradict the family's claim of Otieno not posing a threat. Henrico County Police responded to Otieno's neighborhood but not to the mental crisis call made by his mother. Instead, they were looking for a burglary suspect and identified Otieno as the one they were looking for, per Richmond Times-Dispatch.
Authorities day his behavior during the police encounter led to an emergency custody order (which occurs when someone is deemed a danger to themselves as a result of mental illness). They also said Otieno became physically aggressive toward the officers during the intake process at the hospital and was transferred to the Henrico County jail and charged with disorderly conduct.
While in transport back to the hospital three days later, Otieno became "combative" again during the intake process. Dinwiddie County Commonwealth's Attorney Baskervill said in a court hearing that Otieno was in both handcuffs and leg irons while being pushed into the ground for 12 minutes.
"They smothered him to death. He died of asphyxia due to being smothered," she said.
Though it's speculated that Otieno's manner of death was smothering, the medical examiner has yet to conduct the official autopsy. Seven deputies were charged with second-degree murder charges as well as three hospital employees. Their punishment could range anywhere from 5 to 40 years in prison upon conviction, according to Virginia Law.