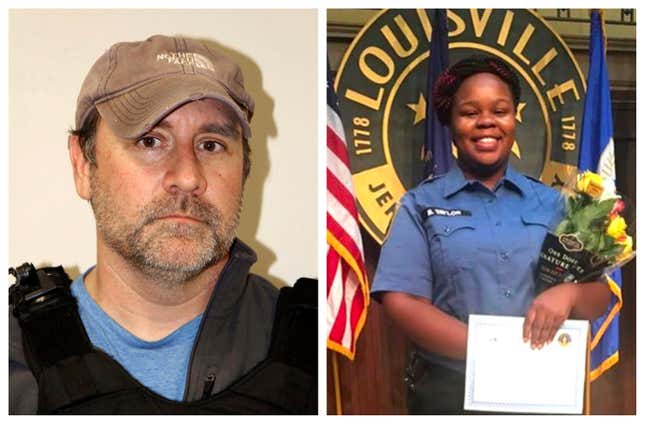 Former Louisville officer Myles Cosgrove, who was part of the botched raid of Breonna Taylor's home in 2020, has found a new job in law enforcement an hour away from his previous department, according to The Associated Press. Cosgrove was fired from the Louisville PD after being accused of fatally shooting Taylor.

Small Town Horror Story: The Killing of Aiyana Mo-Nay Stanley-Jones
Cosgrove was one of the three officers who fired their weapons toward Breonna Taylor and her boyfriend Kenneth Walker the night of March 13, 2020. The officers were serving a search warrant in a narcotics investigation when Walker mistook the officers for intruders. He fired a single shot, hitting one officer in the leg and in response, the officers sent a hail of bullets into the home. The investigation into the botched raid determined Cosgrove was the officer who sent a fatal bullet at Taylor, per Kentucky Attorney General Daniel Cameron.
Cosgrove fired his gun a total of 16 times and was terminated from the department for violating their use-of-force procedure as well as not using his body camera, per Courier Journal. However, he managed to escape criminal charges after his actions were justified by the Attorney General.
Despite these ugly accusations and city residents dragging his name through the mud, another department decided to take a chance on him.
Read more from The Courier Journal:
U.S. Attorney General Merrick Garland said the federal grand jury also didn't indict Cosgrove because "the officers who ultimately carried out the search at Taylor's apartment were not involved in the drafting of the warrant and were unaware of the false and misleading statements that it contained."

Carroll County's Chief Deputy Miller pointed to this fact in reference to Cosgrove's hiring. The Sheriff's Office did a background check on Cosgrove, which he passed, Miller said. He said the federal and state investigation did not lead to charges against Cosgrove and he has nearly two decades of police experience.

"We think he will help reduce the flow of drugs in our area and reduce property crimes," he said. "We felt like he was a good candidate to help us in our county."
It's not the first time an officer has gotten another chance upon accusations of police brutality and problematic behavior. The officers accused of fatally shooting Jayland Walker were reinstated to full-time work after a temporary suspension upon the investigation. The ex-Texas police officer who fatally shot Atatiana Jefferson, Aaron Dean, had an extensive record of displaying narcissistic behavior and over-controlling personality traits that deemed him unfit to work for Fort Worth Police Department.
But, alas.
Breonna Taylor's supporters planned a protest Monday against Cosgrove getting a new job, per WHAS-TV.