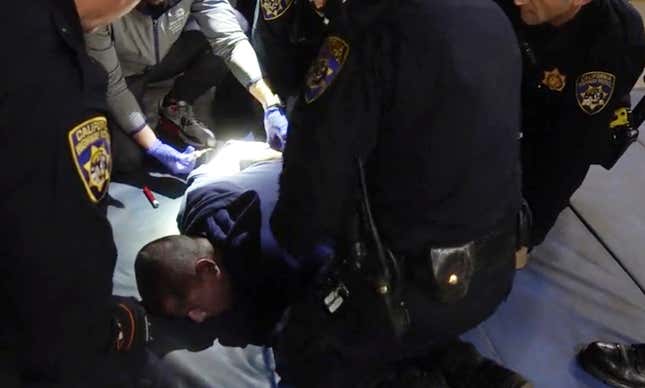 It's been exactly three years since California Highway Patrol officers pulled over Edward Bronstein for a traffic stop and he died in police custody as he screamed, "I can't breathe!" while officers restrained him to take a blood sample.
Small Town Horror Story: The "Suicide" of Sandra Bland
You likely noticed the case sounds very similar to the murder of George Floyd? Only difference is that it occurred less than two months before Floyd was killed by police officers in Minneapolis as he also screamed, "I can't breathe."
On Wednesday, Los Angeles County District Attorney George Goscón charged seven California Highway Patrol officers and a nurse with involuntary manslaughter over the death of Bronstein. According to the Los Angeles County coroner, Bronstein's death was caused by "acute methamphetamine intoxication during restraint by law enforcement"
But, Goscón argued during a press conference that officers had a "legal duty to Mr. Bronstein" and he believes that "they failed their duty and their failure was criminally negligent, causing his death."
More from the Los Angeles County District Attorney's Office:
On March 31, 2020, Bronstein was driving on Interstate 5 in Burbank when Officers Osmanson and Terry pulled him over for suspected driving under the influence. The officers then took Bronstein to a nearby CHP parking lot and obtained a warrant to draw his blood. Bronstein initially refused the blood draw but then agreed to comply as officers pushed him to the ground.
The officers charged are accused of pinning Bronstein to the ground as a nurse drew his blood. While he was being forcefully restrained, Bronstein notified officers multiple times that he couldn't breathe, to the point where he became unresponsive. Nearly 10 minutes after he became unresponsive, the officers attempted CPR, but Bronstein never regained consciousness and was later pronounced dead, according to the Los Angeles County District Attorney's Office.
Also similar to the murder of George Floyd, an 18-minute video was released a year ago showing what led to Bronstein's death.
If convicted, the officers face up to four years in prison.