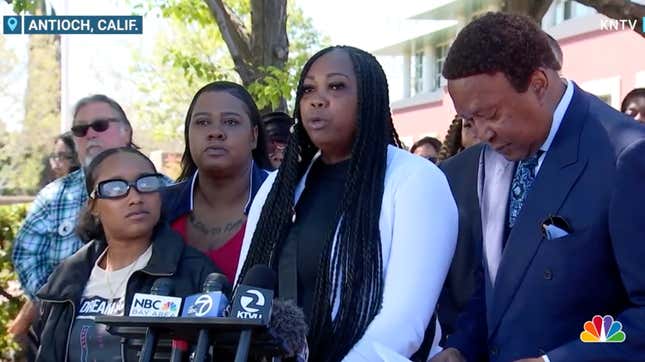 A civil rights attorney has filed a complaint against the Antioch police officers under investigation for exchanging racist text messages, per AP News. They say the messages threatening to target Black residents in traffic stops and jokes about violently arresting them were real incidents.

Are Black San Franciscans Getting $5 Million Each in Reparations?
Nearly half of the police department was accused of exchanging racist messages about the Black Antioch community. In response to the news, the residents told reporters they weren't surprised. It was just a matter of time until the nonsense they say they experienced was exposed. However, upon the media's lens upon the scandal, five residents decided to seek justice in a federal lawsuit filed by Oakland civil rights attorney John Burris. The suit alleges they experienced police misconduct by the officers in question, the report says.
One plaintiff, Adam Carpenter, said in the press conference that he was targeted by four of the officers being investigated. He claimed they repeatedly pulled him over to rob him of his money and belongings then arrested him in November 2020. Another plaintiff, Trent Allen, claimed an officer's text about "field goal kicking" someone's head was referencing an interaction he had with that officer. One of the plaintiffs is suing on behalf of his father who he claims was fatally shot by one of the 45 officers identified in the investigation, per the report.
"This conduct itself was so horrible that it was more than just locker room talk, it was a state of mind," said Burris in the press conference Thursday.
Read more about it from AP News:
Burris said all the officers involved in the scandal should be fired, the remainder reassessed and a federal overseer brought in to ensure the department implements reforms. It's an area Burris is familiar with — in 2000, he and another attorney brought a class-action lawsuit that resulted in reforms and federal oversight of the Oakland Police Department.

The lawsuit names as defendants the city, three previous and current police chiefs, one sergeant and five police officers. Police Chief Steven Ford, who has led the department since April 2022, did not respond to emails and a phone call seeking comment.
The 21-page report released from the DA's office details the racist and homophobic content of the messages. Police Chief Steve Ford described the messages as "racially abhorrent," per KRON4 News. A local defense attorney is also seeking for any criminal cases involving the accused officers to be halted upon the investigation.