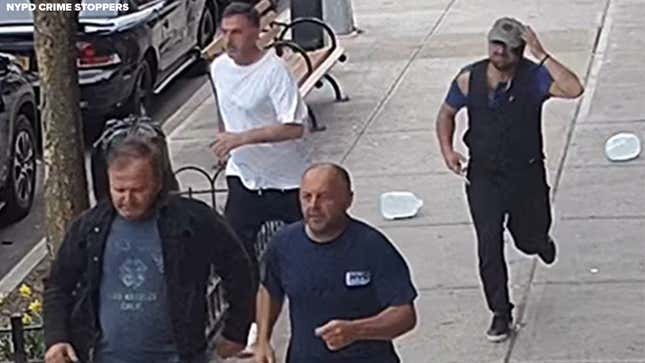 On Monday night, new video of the suspects wanted for attacking 58-year-old Yemeni Brooklyn store owner Jamal Sawaid was released by the NYPD. The footage comes three days after Sawaid suffered a brutal beating inside his own Coney Island smoke shop.
Small Town Horror Story: The Vietnam Veteran Who Refused To Leave A Man Behind
In the video, four men are seen fleeing Mermaid Avenue before getting into a white pickup truck. Sawaid told CBS2 on Sunday that three men assaulted him without reason and that a fourth stood outside guarding the store. "I smile like in his face and I think he joking ... and he hit me right away."
"The blood is going in the floor and I keep on going down and they keep on hitting me, all of them hitting me, over here, over there, over here," Sawaid explained. He also said that one of the men called him a racial slur before Sawaid was hit with a metal pipe.
"He hit me with a stick. More than one, more than three, more than four, more than five," Sawaid said. "I never see them before. I don't have no problem with nobody. No problem with anyone in the community. I have to find out what's the problem. Why they come to my place and they just struck my head? And they hit me only in the head, in my head, in my head. They want to kill me. For what reason?"
The victim's wife, Marie Shahzada, told CBS2: "It's scary. It's really scary. That's why all these businesses are standing together and saying we don't want this." Sawaid is an immigrant from Yemen and police have confirmed this case is being investigated as a hate crime.
Shahzada is pleading with her community to help find the perpetrators. "With NYPD, they can't do it alone. We need you guys, the media. We need the public at large to say we know this guy," she remarked. Shahzada and her husband have received an influx of public support since the assault.