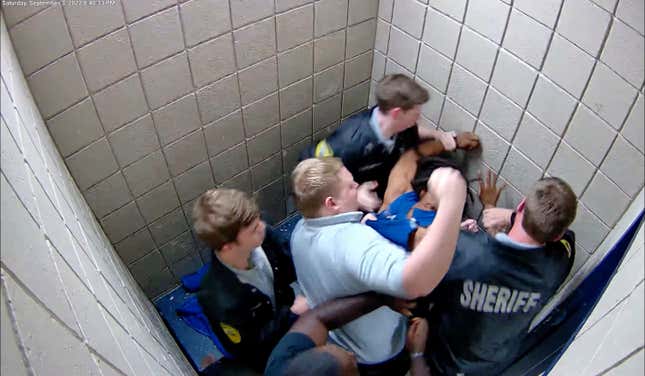 Prosecutors have dropped the criminal charges against Jarrett Hobbs, a man assaulted by a group of sheriff's deputies in 2022, per The Associated Press. Hobbs was facing assault charges after the beating. However, the video footage showed there wasn't enough evidence to prove that Hobbs was the threat.

Tackling A Black Maternal Health Crisis & Embracing Reproductive Justice | The Root Institute
Two of the deputies involved filed counts of assault, battery and obstruction of justice against Hobbs after alleging he fought them while resisting arrest. However, the surveillance footage from inside the jail shows Hobbs being rushed by several officers, dragged on the floor, pinned against the wall and punched repeatedly. Reports say he suffered chipped teeth, swelling and one of his dreadlocks was ripped out of his head.
As a result, he was placed in solitary confinement and slammed with extra charges in addition to the initial drug and traffic counts he initially received.
More from AP News:
"When the video came out, it was abundantly clear that Mr. Hobbs was not the aggressor," Harry Daniels, a civil rights attorney representing Hobbs, said Thursday.

Daniels said Camden County officials had also agreed to pay Hobbs a "significant monetary settlement" rather than face civil claims in a lawsuit. He declined to give the dollar amount. John Myers, the county's attorney, confirmed a settlement but gave no further details.

"He's now eligible for release to a halfway house because he no longer has pending charges, which is major," Daniels said.
According to CNN, the state not only dismissed the added charges but also declined to prosecute him on the original charges "in the interests of justice." In translation, this beating holds more weight than whatever they arrested him for. As Hobbs works to reenter society, the three officers involved in the beating are out of a job and facing charges for battery of an inmate and violating their oath of office, per the report.
The Camden County Sheriff's Office may also be investigated for the fatal shooting of an unarmed Black woman by a department deputy. It's only a matter of time until other people who've spoken out about the abuse they received from CCSO lawyer up.
"While we're proud of this settlement and we're for Mr. Hobbs, this is only one step of a long journey," said attorney Bakari Sellers via First Coast News. "The stories of abuse and corruption surrounding this detention center and the Camden County Sheriff's Office are beyond disturbing and those responsible must be held accountable."