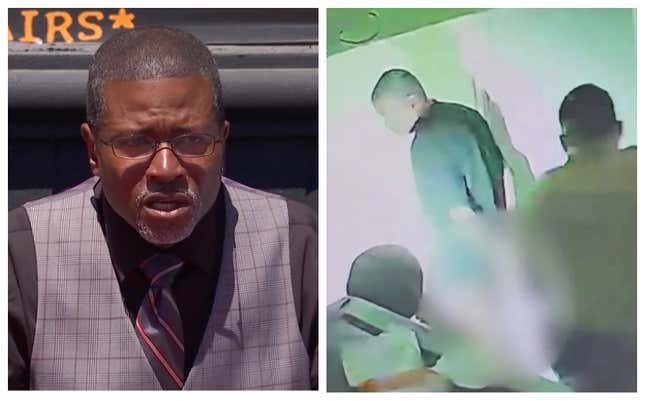 Imagine you wake from your slumber in the wee hours of the morning, not to a boring paid programming infomercial, but to a group of deputies standing in your bedroom with their guns drawn. According to KTLA, this very thing happened to youth leader Derrick Cooper but he didn't even have the chance to put clothes on before being arrested.

Small Town Horror Story: The Vietnam Veteran Who Refused To Leave A Man Behind
Cooper, 54, said in a press conference Tuesday that he woke up to three LA County sheriff's deputies standing in his room shining flashlights in his face and shouting commands on April 18. In the moment, he thought he was going to be arrested for a charge he didn't know about or end up as another victim of police brutality.
"I said, 'I'm unarmed, I live alone, please do not shoot me,'" he said at the press conference.
Surveillance footage shows Cooper being ordered out of his home while handcuffed behind his back while only wearing a t-shirt and his lower half exposed. He told reporters the officers denied his requests to cover himself up. Cooper said he feared that reaching for a towel or pair of pants would mean risking his life while the guns remained pointed at him.
"I felt like a runaway slave," said Cooper in a press conference. After 20 minutes of sitting in the back of the patrol car, he said he heard the dispatcher come on the radio saying, "You guys are at the wrong building. Let him go."
Read more of the incident from NBC News:
The sheriff's department would not comment on whether the deputies had arrived at the wrong address. It said, "Compton Station is thoroughly investigating the incident."

Soon after, the officers apologized and Cooper ran back into his building, he said. Cooper's lawyer, Jaaye Person-Lynn, said he and Cooper reviewed the security video from one hour before the deputies arrived and didn't see anyone prowling around in the area, much less a burglary suspect. Person-Lynn said they're still unsure why deputies made contact with Cooper.

"We haven't been given any information, like any 911 calls or any other information related to that call. So as of right now, we are still quite unsure what actually led to the officers' showing up," he said.
Doesn't this sound familiar? Back in 2019, Anjanette Young accused several Chicago PD officers of barging into her home and handcuffing her while she was naked, per NBC. Turns out those cops also showed up at the wrong residence. Young was given $2.9 million in settlement after suing the officers and the city.
Mr. Cooper and his attorney filed a claim Monday against the sheriff's department, accusing the officers of violating his civil rights and falsely arresting him, per the report. Since the incident, he said he's been unable to dive back into his work as a youth coach at his academy for various sports due to the emotional distress from the incident.