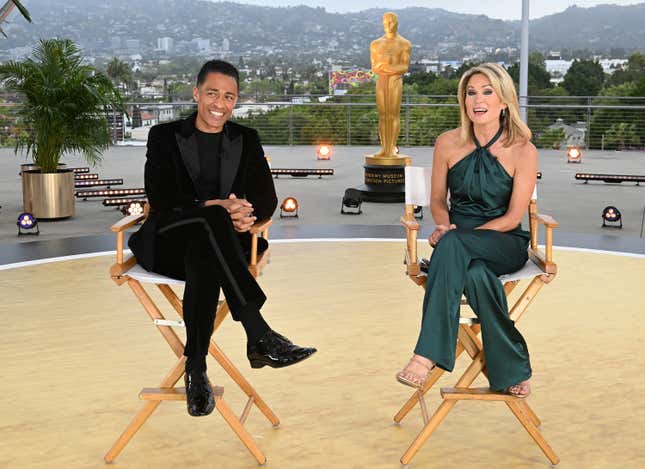 Will the TJ Holmes/Amy Robach saga ever end? A new report by The Cut exposes the salacious culture that apparently has been the norm at ABC for a long time. Both GMA3 anchors were forced to leave the network after their rumored affair was made public in November of last year. However, it appears that it was just the tip of the iceberg.
Netflix's Wednesday Star, Joy Sunday, Plays That's So Random
The Cut stated that sexual tensions were high and regularly acted upon:
"Ruth, who left GMA in 2019 but is still an ABC News producer, says that show in particular seemed like it was staffed by 'a bunch of horned-up high-school students,' who 'learned how to do news in the '80s when people were still doing blow in the bathroom.'"

As if that wasn't bad enough, an anchor identified as "Sascha" in the article said that when she began working at ABC News in 2014, she was a 27-year -old "low-level staffer" when Holmes took a romantic interest in her. As explained in an excerpt: "It wasn't long, she says, before [Holmes] booked a hotel near the network's Upper West Side headquarters and sent her the details. When she walked into the room, he was sitting on the bed."
Sascha also said that on breaks, she and Holmes would have sex behind a locked door. She said that she had "heard rumors that other colleagues slept together in an edit bay, where the window was covered by a poster, and that after having affairs with executives, certain women had been promoted."
The former staffer also said that ABC "rewarded the people that were either divas or adulterers" and that "it was very frustrating because there were a lot of people that were doing good work." Ultimately, Sascha's relationship with Holmes faded out after less than a year and he began an affair with another staffer.
The article also details another former employee who said she was sexually harassed by a superior at the network when she was in her late 20s ("an editor who called her 'babe' had put his hand on her bare thigh while they worked together in a dark, soundproof edit bay"). She also said action was never taken by the company because she "didn't seem that mad."
In a statement to The Cut, an ABC News spokesperson explained: "We do not condone or allow harassment or intimidation of any kind and take these matters very seriously and with immediacy...creating a safe, respectful, and professional work environment for everyone has been, and continues to be, a top priority at ABC News."