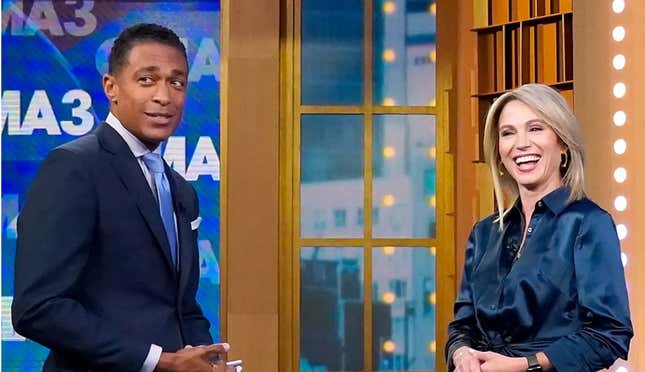 It seems former GMA3 hosts Amy Robach and TJ Holmes have been fodder for news sites since the photo evidence of their alleged romance hit the internet in December. While they were both on air in the days following the release of those pictures, ABC decided to pull them off in order to "weigh the effect their recent disclosure of a romantic relationship might have on the program and the company."
Netflix's Wednesday Star, Joy Sunday, Plays That's So Random
The organization also launched an active investigation into TJ Holmes' personal relationships. Specifically, it's the previous intimate relationship he had with a former producer and another former staffer at the network that's now under review to make sure there were no company violations. Now, according to Page Six, it's recently been revealed that another affair may have taken place between Holmes and a then 24-year-old script coordinator who—a "source" close with her says—was engaged in an alleged months-long affair with the popular television host back in 2015.
Now, while I'm all for people being held accountable for their actions (especially when those actions affect other people and children), and while I'm all for someone's detrimental pattern of behavior being called to the carpet, I can't help but look at the optics of this newly revealed information. This latest development comes amidst a pending divorce between Holmes and soon-to-be ex-wife Marilee Fiebig. It also comes as some "sources" are claiming he's now officially out of a job at GMA3, though no official statement from the news organization has been made yet. The Root reached out to ABC for a comment on the state of the internal investigation and on whether or not a decision had been made and the network declined to comment.
Though we know scandals and sensationalism sell, I'd be lying if I said the subsequent "findings" about Holmes weren't teetering the line of a smear campaign hellbent on making a strong case for him to lose his job. And to be completely honest, two things can be true at the same time: Holmes could be a serial cheater and this very well could be an attempt to take his livelihood away from him.
For all intents and purposes though, he and Robach were two consenting adults—on equal playing fields when it comes to their positions on the network—that engaged in an alleged extramarital relationship that was kept under wraps—until it wasn't. And because of this, it begs a myriad of questions like:
Does it look like a violation of morality because they were both married? Yes.
Is it messy when the people you expect to bring you the news become the news themselves? Hell yes.
Is it lowkey egregious to see both parties seemingly act unphased and arguably relieved, kissing up on each other in paparazzi pics while their jobs potentially hang in the balance? UMM HELL TO THE YEAH.
For the record: I'm not saying Holmes—even by his own admission—is a standup guy. He cheated while married (numerous times, allegedly) and that's wrong, full stop. But that's also between him, his ex-wife and his children. It may also be between him and the HR department if the findings from ABC's internal investigation prove to support previous allegations of other affairs where there are power dynamics at play—but we won't know until we know.
What we do know, however, is that the desire to devour the latest scandal will forever be tempting. My hope is that our insatiable appetite doesn't cloud our judgment too much to the fact that these are real people with real feelings who have to deal with real-life consequences. Intentionally making a mess of an already messy situation will always do more harm than good for all parties involved. For the sake of the truth and for the sake of what is right, this saga needs to get wrapped up quickly before it snowballs any further.