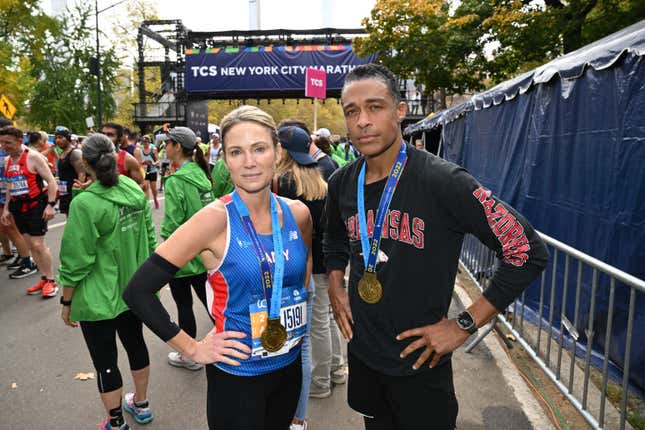 The Root has been keeping a close eye on the newest couple in journalism, GMA3's T.J. Holmes and Amy Robach.

Small Town Horror Story: The Vietnam Veteran Who Refused To Leave A Man Behind
We all observed the lovers taking the next step to solidify their relationship (ahem...in the public eye) over the holiday season. T.J. Holmes filed for divorce from his attorney wife of 12 years, Marilee Fiebig Holmes while on his holiday rendezvous with Amy Robach. We still have yet to know the state of Robach's marriage.
The lovers every move has been paparazzied, from shamelessly walking hand in hand around New York City, giggling over dinner and drinks, and now… mouth to mouth in Miami after Christmas. "YUUUUUCK!" Sorry we are just echoing TJ's previous comment.
But this bares the question. Will this really work out in the end for these two? It was reported in early December 2022 that the two have been benched by ABC, with no return date in sight. It's apparent that they know they are being watched, making the most of every outing by smooching around town. So will their plan of presenting a united front get them their jobs back? Is the relationship even real or are they only doing enough to show a stable relationship until the gossip dies down, they get their jobs back, and break up in the future?
Maybe they think that showing the same chipper, nonchalant attitudes they had on-air now in public will prove to people that they are meant to be together. Maybe people will feel so overjoyed that two people supposedly found love that they would disregard that these coworkers with spouses and kids stepped out of line. Aren't all people excited to see a love story, especially one that was revealed right around the holidays? If they can convince America that they really do love each other, then it won't be so bad that an off-air alleged affair was going on all along.
However, this could backfire. Although the two of them look happier than ever before, others may not feel so warm and fuzzy about the alleged affair. Two technically married people, separated or not, going out in public enough times as a couple for The Daily Mail to have snapped a whole gallery of photos of them is not a favorable look. I would completely understand if nobody has sympathy for them and if they don't get their seat next to each other on air anytime soon or worse, ever again.
If you have ever sat down with your morning coffee to watch the flirty duo on GMA3, then you would know that talking about family and children is common. T.J. Holmes is a father of three children, two from his previous marriage and a daughter with his soon-to-be ex-wife. Amy Robach is a mother of two daughters and stepmother to three boys. How sympathetic will loyal viewers be to either one of them, knowing that all of that family talk was a stretch? The people delivering the news to start their day were lying to our faces. I'm not sure if cocktails on the beach and bright, toothy smiles will give them America's grace.