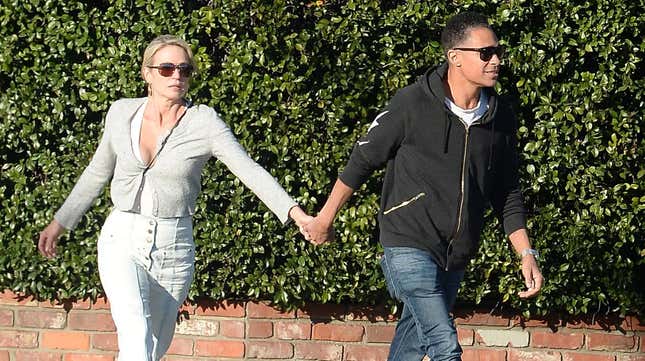 Although they lost their jobs and ruined their reputations, at least they have each other, right? Amy Robach was spotted with TJ Holmes outside of a restaurant the same day they were let go by ABC. The photos, which featured the pair kissing, holding hands and Robach jumping on Holmes, were published exclusively by Page Six.
Fighting "Lie-abetes": How To Spot And Combat Disinformation and Conspiracies In Politics | The 411: Part 2
After compromising pictures of the pair were published online in November, the two were immediately taken off the air. The GMA3 hosts remained on leave until an investigation by the network was completed. It was revealed that Holmes — who married lawyer Marilee Fiebig in 2010 — allegedly had affairs with other employees.
The accusations included him sleeping with a former intern as well as a married producer. Robach — who married actor Andrew Shue in 2010 — was apparently shocked by Holmes' previous relationships. There was much speculation from sources and those close to ABC about Holmes and Robach not coming back.
However, a ABC spokesperson officially confirmed that the pair were finished:
"After several productive conversations with Amy Robach and T.J. Holmes about different options, we all agreed it's best for everyone that they move on from ABC News. We recognize their talent and commitment over the years and are thankful for their contributions. A decision for new co-hosts [of GMA3 and 20/20] will come later."
Holmes filed for divorce from Fiebig last month while rumor has it that Robach and Shue's divorce is nearly finalized. Andrew Shue's son, Nate, posted a GIF via Instagram Stories on Saturday of Jimmy Fallon saying: "Let's just move on." The 26-year-old has seemingly had enough of this mess and quite frankly—we don't blame him.