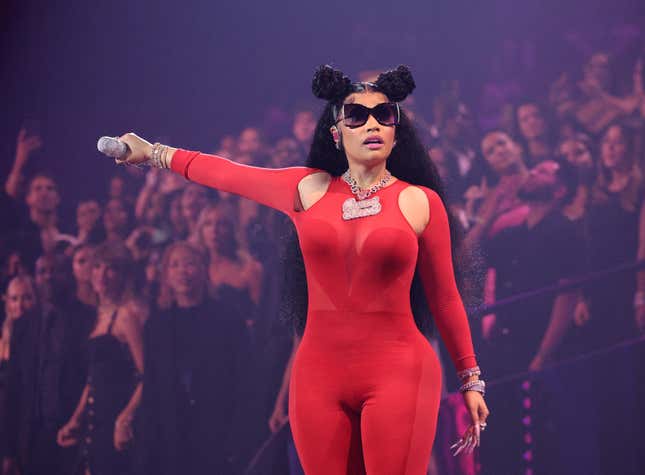 If you're a certain age, you remember when the MTV Video Music Awards were a big deal. In recent years, the show has lost some of its luster, but that doesn't seem to stop major stars from hitting the stage. Before we get into the night's most memorable performances, let me give you a quick awards recap: Taylor Swift won everything. Now you're caught up. When Taylor wasn't on stage collecting moonmen, we got cool moments from Cardi B, Megan Thee Stallion, Nicki Minaj, Diddy and a cast of hip-hop legends.

FX On Hulu's Kindred Star, Mallori Johnson, Plays That's So Random
Megan Thee Stallion and Justin Timberlake
Before we get to the music, let's talk about the backstage drama. Video of a very quick interaction between Megan Thee Stallion and Justin Timberlake started making the rounds Tuesday night, with some sites speculating that they had a fight. Turns out, she was just having a fangirl moment.
According to People, Meg was getting her hair done when a reunited *NSYNC walked by. She waved her finger at Justin, telling him she wanted to hang out. "He said, 'It's so nice to meet you,' and she said, 'No, no, this don't count, this don't count. We gotta meet proper,'" the outlet's sources said.
So now we can all move on from this imaginary feud. In fact, don't be surprised when they release a new song together, just because everyone was talking.
Cardi B and Megan Thee Stallion
When Megan wasn't making news backstage, she was bringing her best Hot Girl energy on stage in a performance with Cardi B. They delivered a sexy, fun version of their new hit "Bongos." On a show full of forgettable moments, it really showcased why these women are stars. This performance was a fantastic piece of fluff in the best possible way.
Diddy
Before Mary J. Blige presented him with the Global Icon Award, Diddy ran through a roster of Bad Boy classics, including "I'll Be Missing You," "It's All About the Benjamins," "Bad Boy 4 Life," "Last Night" (with Keyshia Cole) and "Mo Money Mo Problems" where his son Christian a.k.a. King Combs rapped Ma$e's verse word for word. So yeah, there wasn't a single Bad Boy OG on stage with him. The bad blood between Didddy and his artists has been well documented and that history made for an awkward performance. Sure, it was nostalgic fun, but it was also a little sad.
Nicki Minaj
Though she was also hosting, Nicki took a little time out of her busy night to drop two new songs from her upcoming album, Pink Friday 2. "Last Time I Saw You" is a beautiful, emotional song about remembering lost loved ones. She gave it the appropriate room to breathe in a stripped down performance featuring just Nicki and no bells and whistles. It signaled a more mature Nicki, who we'll hopefully see more of during her Pink Friday 2 release tour.
Lil Wayne
For his fans, Lil Wayne is like your favorite comfort food. No matter what craziness and upheaval is going on around him, he's going to show up and deliver the hits. He opened the show with a four minute set featuring "Back That Azz Up," "Uproar" and "Kat Food." To the young hip-hop artists in the audience, it was a lesson in how you can't fake stage presence. There has to be something that keeps audiences interested for 20 years.
Doja Cat
It's been a weird time for Doja Cat lately, and she brought all that defiant energy to her VMAs performance. In addition to her new No. 1 hit "Paint the Town Red," she also performed "Attention" and "Demons." She went full sexy librarian as she started with her gray blazer buttoned and her hair up, but was in full demon mode with her hair down and red bra on display by the time the performance ended. Say what you will about Doja Cat's social media nonsense, she delivered one of the most memorable performances of the night.
Metro Boomin', Future, Swae Lee, NAV and A Boogie Wit da Hoodie
I'm not going to pretend that I'm super familiar with any of these artists, but the laid back, low key performance felt a little out of place on the high energy show. Yes, it's nice to have variety, but on a night packed with relentless beats and flashing lights, this could end up being lost in the shuffle. And frankly, it didn't hold up well against the nostalgic hip-hop we heard all night.
50th Anniversary of Hip-Hop
It was cool to see MTV celebrate the 50th anniversary of hip-hop, especially since it took the network a while to jump on the rap bandwagon back in the day. Grandmaster Flash and the Furious Five, Doug E. Fresh, Nicki Minaj, Lil Wayne, LL Cool J and Darryl "DMC" McDaniels got together to close the show. Everyone in music has spent the last year celebrating hip-hop, so this felt like it was late to the party and also an obligation MTV had to check off a list.