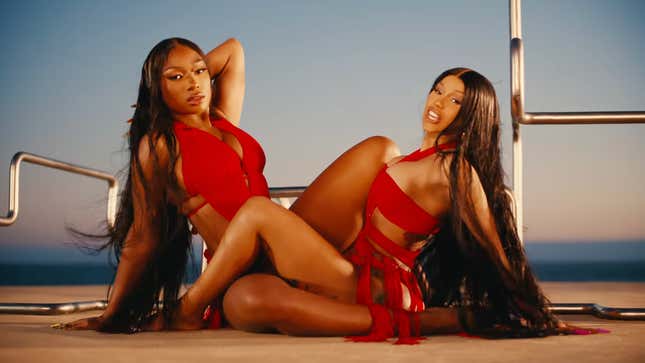 I don't know about you, but when it comes to musical collaborations between Cardi B and Megan Thee Stallion, there's two things I expect: catchy lyrics and fire visuals.
The Root Staff Reacts To The 2023 Grammy Awards Big Wins, Best Looks, & More
And that's exactly what the music world got when they two released their new single "Bongos" on Friday. While it's not without is sexually-laced lyrics (not nearly as raunchy as the pandemic hit "W.A.P.," to be clear), the song is a fresh sound as the two rap over a Spanish-sounding beat about sex, looking good, and getting money—three necessary topics to help aid in some serious radio-play for a song that will now serve as this summer's last lyrical hoorah.
The duo looks exceptionally good, donning colorful gowns, slaying in seductive poses, and teasing their insane physiques while twerking. It's a follow-up to "W.A.P" only in the sense of the two joining forces, but the song stands on it's a own as a sound we've rarely heard coming out of most of today's hip-hop music.
It's fresh, funky, and fun—the latter of which I'm sure Megan is grateful for seeing as how this is the first song to drop since she released Traumazine back in August 2022 (and after a tumultuous Tory Lanez trial that just concluded last month.) In fact, in an Instagram live session between thee Hot Girl Coach and Cardi, Meg revealed that making this song was easy because of the friendship and "good energy" she's always received from the "Please Me" rapper.
"As a person, I don't really—like this space that I'm in mentally, I'm not fooling with too many people that don't give me good vibes, good energy," Meg said. "Like I have literally created boundaries. And Cardi is somebody I want in my space and my energy, so it's so easy to work with her because she got good vibes, she got good energy. I want her to be in my space."

She continued:
She been nothing but real to me. Like, the industry is so fucked up, but this girl is probably the only girl who have been this consistent and this real and this—just great of a person to me. So I just want to say Cardi I really love you so much and I really appreciate it. At a time that you could've jumped ship, you never jumped the ship. And you always been rocking with me and I'm always so appreciative.
Additionally, this song's release comes as the copyright infringement lawsuit facing the two rap stars for "WA.P." and Megan's 2021 hit "Thot Shit" officially got dismissed. Per Complex, a federal judge denied bogus and unsubstantiated claims from Denise Jones (stage name Necey X) that certain phrases in songs, like "WAP" and "Thot Shit," were copied from her.
Specifically speaking, U.S. District Judge Andrew L. Carter ruled that the use of the phrase "pussy so wet" and "niggas wild'n" was "neither original or unique to the Plaintiff," in her song "Grab'em by the Pussy" as the expression is "employed frequently in popular culture and other Hip-Hop songs." What's more, the judge said that Jones "cannot exercise a monopoly over this two-word phrase ("niggas wild'n") and ruled that the phrases she claimed Cardi and Meg copied were nowhere near similar.
Looks like Cardi and Meg are 3-0 at this point, let's hope their wins continue.