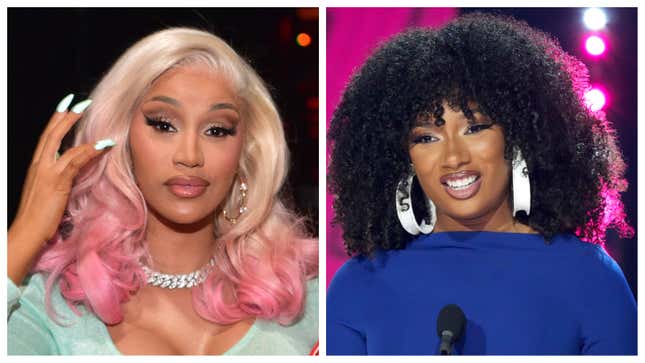 If you think you know what to expect when you get Cardi B. and Megan Thee Stallion on a track together, think again.
The Root Staff Reacts To The 2023 Grammy Awards Big Wins, Best Looks, & More
As previously reported by The Root, the rappers are teaming up to bring us a brand new song, "Bongos," expected to drop on Friday. But if you're expecting it to be repeat of their pandemic smash hit (and highly controversial) song "W.A.P., " then you have another thing coming, according to Cardi.
In fact, per Billboard on Thursday, in a new interview with DJ Whoo Kid for an upcoming episode of his Whoo's House podcast, that the vibe of the song is "not like 'WAP' type of stuff.
"I wonder how people are gonna react to this vibe because they're really like expecting 'WAP,' like, 'oh, here they go again talking this and that,'" Cardi explained. "We are talking a little, you know, about some pussy, but not like 'WAP' type of stuff.
In a previous Instagram live video on Wednesday, she also alluded to the same point and explained how the cover art for the single might throw people off and make people believe that the new song will be just as risqué as the old one—but that that decision was intentional.
"These covers, we tricked you bitches," she began. "You want to know how we tricked y'all? Because this is not the theme of the song or the video. This is not the theme of the song or the video. We want y'all to believe that it's giving something that it's not." Whatever it's giving, there's no doubt that fans are waiting with bated breath to indulge in it.
Additionally, the "Money" rapper has one more thing to be excited about along with her new single: multiple nominations at this year's BET Hip-Hop Awards. Per Entertainment Tonight, she's up for 12 awards including: Best Hip-Hop Video, Best Collaboration, Best Live Performer, Lyricist of the Year, Song of the Year and more.
Now that's something to beat bongos about, congratulations Cardi! The 2023 BET Hip-Hop Awards goes down Tuesday, Oct. 10 at 9p.m.ET on BET.