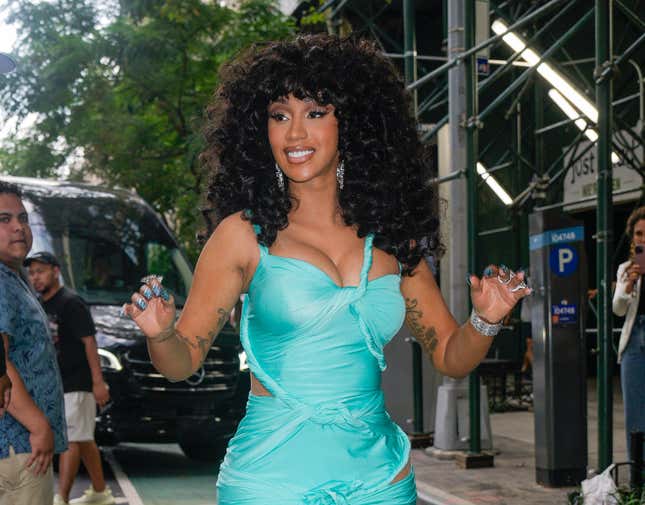 Cardi B has some advice for new mom Chrisean Rock that frankly, all moms need to hear. TMZ caught up with the rapper/mom of two while promoting her new single "Bongos," featuring Megan Thee Stallion. And when asked her to impart some of her mommy wisdom on the 23-year-old reality star, the "Bodak Yellow" artist urged Rock to take time for herself when things get tough.
Women's Pain Is Often Ignored By Gender and Racially-Biased Doctors
"Whenever you start feeling emotional, you might not think it's postpartum, but it's postpartum," she said. "When that happens, go outside, take a breather, go drink some coffee, go eat some lunch on your own. When you're like a new mom, like the new schedule overwhelms you. So just do something that calms you down."
You're probably thinking that Cardi's advice sounds incredibly simple. But it isn't always easy to put into practice, especially for first-time moms who are trying to get used to all of the physical and emotional challenges that come with caring for their little ones. And for mothers of color, who are more likely to experience postpartum depression but less likely to receive treatment, it's more important than ever to pay attention to the signs.
The American College of Obstetricians and Gynecologists defines postpartum depression as a type of depressive mood disorder that develops in the first year after the birth of a child. Symptoms can include, but are not limited to, severe mood swings, overwhelming tiredness or loss of energy and difficulty bonding with your baby.
Although Rock is showing no outward signs of postpartum depression and is absolutely glowing in her new role as mom, it's hard to ignore her troubled past with baby daddy Blueface. Rock gave birth to their son Chrisean Malone on September 3 and shared the blessed event on IG live. But while friends, family and streaming fans were able to experience the special moment, Blueface was notably absent from it all. The LA rapper has had a history of legal woes and Rock has gone on record accusing him of threatening to kick her in the stomach during her pregnancy. Let's hope Rock can find time to care for herself while caring for her new bundle of joy.