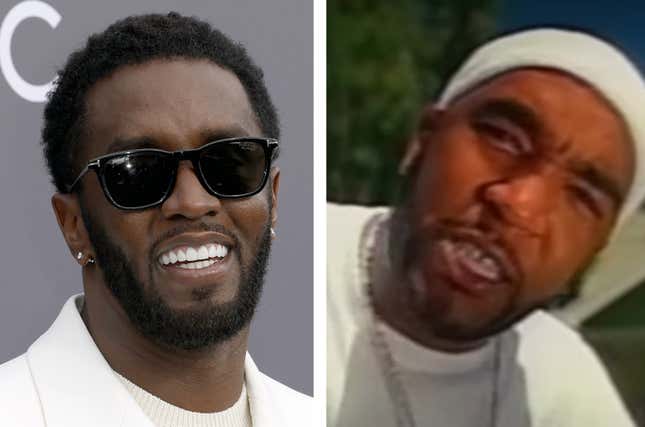 Sean "Diddy" Combs may be taking a victory lap off his recent decision to return Bad Boy publishing rights to artists and songwriters, but at least one of his former rappers is not impressed. Mark Curry, who was featured on several of the label's tracks, most notably "Bad Boy 4 Life," doesn't think artists getting their publishing back is the noble act it's being painted as. In a video on Instagram, he pointed out that his songs, and many others from the label aren't worth much nowadays, so the publishing doesn't offer a huge amount of value.

Comedian London Hughes Talks New Book, Parents Watching Her Very Sexual Comedy, & Beyoncé
"What's it worth now?" he asked. "He gave me mine back a long time ago…That's disrespectful—I said why don't you just keep it and pay me? I don't want the publishing; I want the money."
He's not necessarily wrong. Let's be honest: Bad Boy's catalog doesn't have the staying power to create a steady income stream for lesser known artists like Curry. He says he makes a few hundred dollars here and there on "Bad Boys 4 Life," but that's it. For comparison, Curry mentions Bon Jovi in the video. They will be making money off of "Livin' on a Prayer" for the rest of their lives.
"Diddy gave the publishing back," Curry wrote in the caption. "So what.. it has no value…I want him to give me a million cash and then I can plan the rest of my life out well."
Combs' decision to return publishing rights to artists and songwriters was heralded by some as a major turning point in the music industry, as it signals a high profile producer/executive bucking the trend, and giving artists control of their music. However, Diddy's reputation of mistreating and possibly cheating those same people tempers any admiration his actions might inspire. Of course, none of this is news to the former Bad Boy star. In 2009, he wrote a book, Dancing with the Devil: How Puff Burned the Bad Boys of Hip Hop, about his experience at the label. And most importantly, Curry is right: Why didn't the "Last Night" rapper make this statement when Bad Boy was at the height of its popularity?
"Ever had somebody owe you 50 dollars…when you needed it back…they didn't pay you," Curry wrote in the comments to the video. "Then by the time they do pay you…the 50 dollars doesn't mean the same as it did when you needed it?"
Diddy is clearly in comeback mode, where he's doing whatever he can to keep his name in the news before his new album comes out. Some part of him may have had good intentions with this decision, but he's a businessman first–don't ever forget that. Don't be surprised in a few months when we hear the real monetary reason for this big publishing deal.