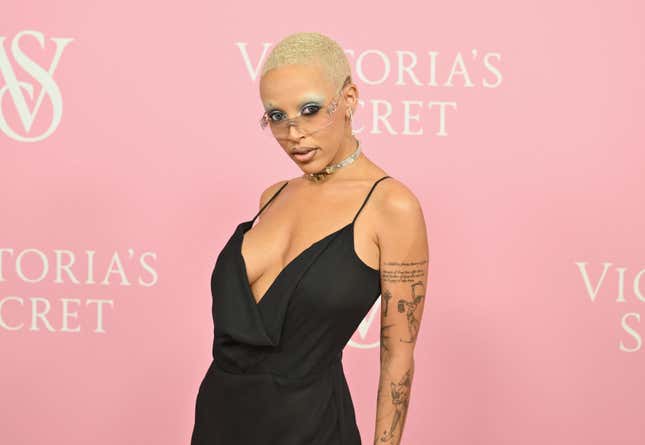 Doja Cat's "Paint the Town Red" has hit the #1 slot on the Billboard Hot 100 chart, the first rap song to do so since August 2022. Country music has claimed the top of the charts for the majority of 2023.

My Hip-Hop Story: Cedric The Entertainer On Jay-Z and His Indisputable Role In Shaping The Genre's Culture
The artist's controversial single was released on August 4, 2023, and immediately caused social media uproar due to the song having devilish references. Doja Cat has taken the Lil Nas X approach (remember "Call Me By Your Name?") using less-than-holy visuals and lyrics in her latest releases.
Doja's song, similar to past singles from her Planet Her era, had the help of TikTok to reach the top of the charts, with people making dances and trends from the song. Currently, there have been over 1.3 million TikToks created with the song.
The song also became popular because of fans longing for new music after a series of issues with Doja's career post-Planet Her. She had to end the era earlier than expected to have throat surgery in the early summer of 2022. The surgery forced her to cancel her spot on The Weeknd Tour. Later in 2022, she shaved off her hair and eyebrows and people speculated that she was taking a turn for the worst. She has since told her fans that she doesn't love them, that she wasn't a fan of her beloved Planet Her album, and she is rumored to be dating an alleged abuser.
However, it seems that her fans aren't fazed by her odd behavior, rapidly buying tickets for her newly announced The Scarlet Tour, and anticipating the release of her next album on September 22.
"Paint the Town Red" is Doja's second song to hit number one on the Billboard 100 chart. Her first number one was "Say So" featuring Nicki Minaj in 2020. Nicki Minaj's "Super Freaky Girl" was the last rap song to hit number one on the Billboard charts, in August 2022.