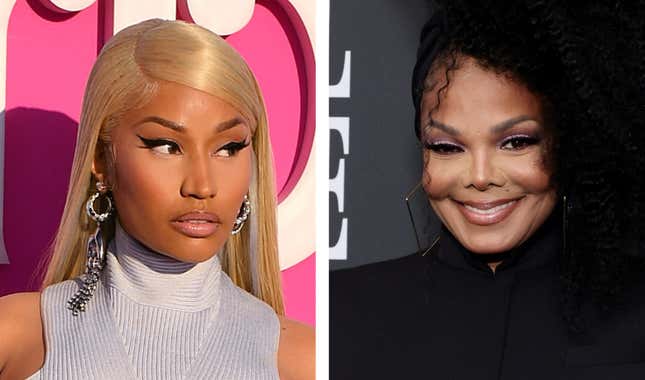 I may be putting my mentions in mortal danger, but this has to be said: The Barbz need to calm down.
FX On Hulu's Kindred Star, Mallori Johnson, Plays That's So Random
Just because you see Nicki Minaj conspiracies everywhere, that doesn't mean the rest of the world does. That specifically applies to legendary superstars who were dominating music and TV long before your fav was even born. But before we get into problematic fandoms, let's start from the beginning.

On Tuesday, Janet Jackson took to Twitter to post a throwback photo of herself in a white outfit. She captioned it "#fashhhionn." That same day, Nicki released the cover art for her new album, Pink Friday 2, which features the "Fly" artist in all white. Somehow, some of Nicki's more die hard fans—known as Barbz—thought the Rhythm Nation legend was somehow shading Nicki and flooding Janet's replies. This prompted one of Jackson's fan pages to respond "#janfam sees no shade here. She's showing off her fashion."
Seeing that things were quickly getting out of hand, Janet took "Control" and replied with the heart emoji accompanied by the message, "It's a shame that people want to pit one artist against another." Following the Poetic Justice star's lead, Nicki jumped in to call off the Barbz, writing, "Icon. Legend. Royalty. The original definition of #ICanBeAllTheWayCoveredItsSTILLgivingSEXY."
So about those problematic fandoms. Among entertainment's most out of control fan groups, the Barbz rank in the top 3 alongside the Beyhive and Swifties. I understand that you love Nicki and want to protect her from disrespect and celebrate her triumphs. However, there's a way for you to do that without constantly harassing other artists and their fans. Janet Jackson, a literal living legend, posted an old photo of herself and y'all flew off the handle because she was wearing the same color as Nicki. You see the craziness in that, right?
Cardi B and Megan Thee Stallion announced a new collab and you guys couldn't wait to hop on social media and call them wannabes. I know you're all worked up because the new album is about to come out, but seriously, calm down. Nicki is not everyone's favorite artist and that's perfectly OK. Just because I love Janet doesn't mean I hate Nicki. I promise you Nicki Minaj will still be a super popular, successful artist if you leave the rest of us alone.