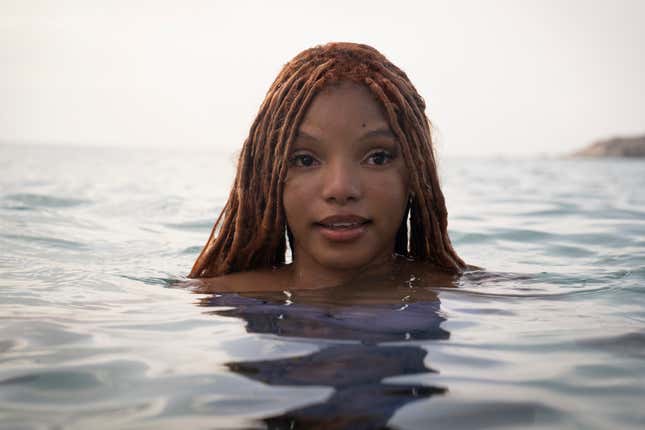 We've had nothing but praise for Halle Bailey's performance as Ariel in The Little Mermaid. We've also admired how she's handled all the craziness swirling around the remake of the animated classic. But the movie's success got us thinking about other live-action Disney remakes. So as you watch–and rewatch–Bailey's beautiful rendition of "Part of Your World" on Disney+, take another look at the diverse, inclusive casts of these other live-action adaptations.
Celia Rose Gooding Talks Strange New Worlds & If She'd Fly In An Elon Musk Rocket
The Little Mermaid
Though we'll always have a nostalgic love for the OG The Little Mermaid, we have to admit there was something weird about a story set in the Caribbean being so completely white. The 2023 remake remedied that issue by casting the phenomenal Halle Bailey in a star-making turn as Ariel, Javier Bardem as King Triton, Tony winner Daveed Diggs as Sebastian and yes, even Awkwafina as Scuttle. Not only did it make the film feel more welcoming to all audiences, it inspired a whole new generation of aspiring Disney Princesses to see themselves in the company's fantasy worlds.
The Lion King
No offense to Matthew Broderick and Jeremy Irons, but The Lion King is about animals living on the Pride Lands of Africa, so it's not realistic to have a cast of mostly white actors portraying Simba, his friends and family. This isn't a knock against their performances, it just feels right to have Donald Glover, Chiwetel Ejiofor, Alfre Woodard and Beyoncé representing this particular family.
Beauty and the Beast: A 30th Celebration
Yes, this is cheating a little, as it's more of a concert adaptation, but you know I'm not passing up a chance to shoutout H.E.R. as Belle. She shines as the independent, fiery princess who would rather read and play guitar than marry Gaston. She even gets to wear her signature glasses. To that end, we need more non-traditional princess portrayals, since being a princess doesn't always have to mean one specific characterization.
The Jungle Book
Not only is the voice cast of The Jungle Book diverse, it's star-studded. Who else besides Idris Elba could bring the villainous Shere Khan to life? Plus, we get Lupita Nyong'o and Giancarlo Esposito as Mowgli's adoptive wolf parents. No matter what you think of the movie, there's no denying that the 2016 remake has a much richer, more emotional story and that's partly due to the actors bringing the animals to life.
Lady and the Tramp
This movie was released on Disney+ at the end of 2019, so it may have gotten lost in holiday chaos and the frenzy of everything that barreled down on us in 2020. It's a pretty straight forward remake of the animated movie, but with a much more inclusive cast of humans and dogs. A voice cast of well-rounded, diverse actors makes the film's world feel bigger. The real world is full of people of all shapes, sizes, colors and ages. Why wouldn't the dog world be the same?
With live-action versions of Lilo & Stitch, Moana, The Aristocats and possibly The Princess and the Frog all in development, there may be a chance that Disney's live-action world will finally begin to reflect the real world.
If you've missed any of these movies, they're all available to stream on Disney+.