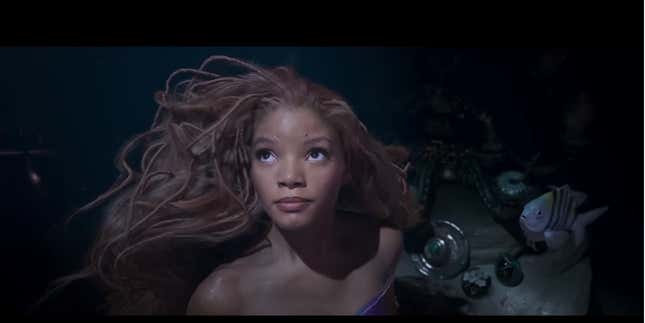 Disney's new The Little Mermaid starring Halle Bailey may be bringing smiles to little girls and boys everywhere right now, but it's also apparently doing a disservice to them by not acknowledging one major historical event: slavery. Yes, you read that right, and yes, I wish I was joking.
Grand Crew: Season 2 & The Mandalorian: Season 3 Are Our TV Picks This Week
This interesting (read: wild AF) critique was given by Marcus Ryder, a British campaigner and chair of the Royal Academy of Dramatic Art after viewing the box office hit of a film with his six-year-old son. According to Deadline, Ryder penned a blog post explaining his displeasure over the film's decision to "whitewash out the difficult parts of our history," citing the fact that he believes the setting of the film takes place in the 18th Century Caribbean during the time when African chattel slavery was taking place. Upon sharing his post to Twitter, Ryder was expectedly met with backlash with many folks wondering why he wanted to insert such a serious and brutal topic into a fantasy film made for children. He has since deleted the tweet.
In a followup tweet thread however, he offered a clarification (of sorts) about his post, saying:
I understand and appreciate the arguments that The Little Mermaid is "just fantasy", a "fairy tale" and "escapism". Fantasies are powerful vehicles for children to understand the world around them, which is precisely why we must take care in how we, as adults, tell them. Disney chose to set this fantasy remake in what looks like 18th Century Caribbean - yet that time was a time of horrific slavery. Far from "wanting The Little Mermaid to have slaves in it" I believe the creators should had taken one of two options.

Option 1: To pick a totally different setting free of historical baggage related to Black people.

Option 2: Keep it in the 18th century Caribbean but avoid erasure of Black history, for instance by setting it in Haiti which had already thrown off the shackles of slavery. The sad reality is this great film left me concerned that Disney did not take seriously this very sensitive time and place which due to the atrocities that happened there should be treated very carefully - especially for impressionable children.
He concluded in part, "For the record I liked the film. There are a lot of positive elements - one of them being the casting and normalising of Black beauty - but that does not mean I don't think there aren't flaws that could have been addressed better. (It is my job to think these things through)."
Sadly, Marcus with all the thinking you did, I don't think you thought this through enough. This movie is literally a work of fiction. It's fantastical. It's has a rapping seagull, a singing crab, a talking fish, BIPOC mermaids and a drag queen-inspired octopus witch wearing MAC Ruby Woo and full face of makeup. Underwater.
There is no way you sat here, in the year of our niece Blue Ivy Carter, logged onto Al Gore's internet and found it in your heart to complain about the lack of slavery in a kid's film. We're unda da sea crying out loud. Can we not be slapped in the face with reality for one second?
Just because Ariel is Black doesn't mean we have to always be reminded of the painful parts in our history—especially when it doesn't make sense. Black folks deserve a fantasy free from the icks of this world. Black kids deserve escapism free from deep trauma. If we can't count on fun kids movies to provide us with that joy and escape for a measly two hours and 15 minutes, where else are we supposed to look?