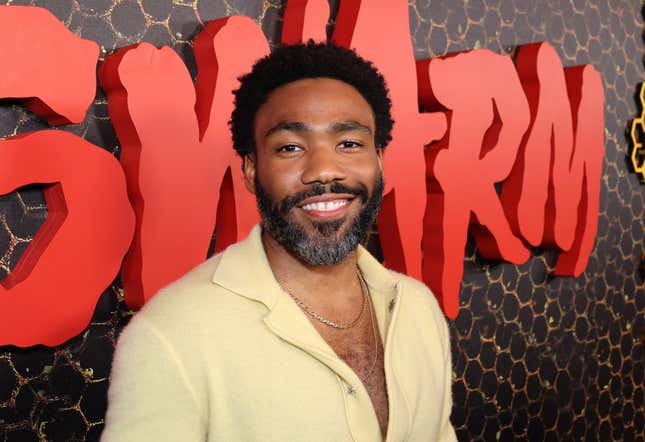 Nowadays, Donald Glover is known for hit shows like Atlanta and Swarm, but one of his earliest TV gigs was working on an NBC favorite. Between 2006 and 2009, he was a writer on the hit series 30 Rock. In a recent interview with GQ, the Emmy winner opened up about his time on the Tina Fey comedy and discussed an aspect of his tenure that may surprise some of the show's fans. And I say some because a lot of us have had this exact conversation with a boss.
Donald Glover's Swarm Is Our Black TV Pick of the Week
The "This is America" artist revealed that Fey told him he was a "diversity hire." At the time, NBC had a diversity initiative allowing shows to add a Black writer to the staff without it affecting the budget. He also said he's not upset with the show's star/creator for letting him know.

"There is no animosity between us or anything like that, but [Tina Fey] said it herself….It was a diversity thing," Glover said. "The last two people who were fighting for the job were me and Kenya Barris. I didn't know it was between me and him until later. He hit me one day and he was like, 'I hated you for years!'"
He was so young when he got the 30 Rock job he was still a resident advisor for his dorm at NYU. His age, combined with the nature of his employment, made him second-guess himself.
"It definitely didn't feel like I was supposed to be there," Glover said. "I used to have stress dreams every night where I was doing cartwheels on the top of a New York skyscraper with the other writers watching me."
Despite Glover's fears, at least one of the comedy's stars knew he was a special talent. "When I first read his writing during 30 Rock, I was like, 'He's got it,'" Tracy Morgan said. "The things he wrote for me made me very funny. He got me nominated…twice!"
As the successful artist he is now, the Community star has no regrets about his career path. He auditioned for Saturday Night Live twice and was rejected both times. Now, he sees all the "nos" as a blessing in disguise.
"I dodged so many bullets," he said. "Me being on SNL would've killed me. I got friends who made it on SNL and, at the time, I was like, 'Damn.' But if I got on SNL, my career wouldn't have happened. And thank God. Thank God I didn't get some of those pilots. I wanted so desperately to be on Parks and Rec because it was the cool, hipster show. I am the bullet dodger, I feel like Samuel L. Jackson in Pulp Fiction. That wasn't a mistake, you know? God did that."
While we anxiously await Donald Glover's next fascinating project, you can stream Swarm on Prime Video.