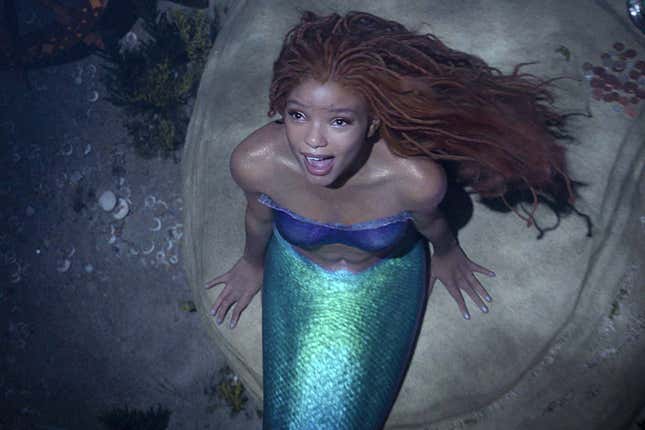 One of my fondest memories as a young girl was watching Disney movies with my mom. Whether it was Beauty and the Beast, Mulan, Brandy and Whitney Houston's version of Cinderella or Disney's original The Little Mermaid, nine times out of 10 you could catch me reciting the words scene by scene and belting out each song as I twirled around the living room (much to my mother's amusement).

The Little Mermaid Can Talk To A Crab But She Can't Be Black? Get Out Of Here!
The latter film was undoubtedly one of my favorites, and now, thanks to the new iteration featuring Javier Bardem, Melissa McCarthy, Daveed Diggs, Awkwafina, Jonah Hauer-King and the star of it all, an electric and compelling Halle Bailey, my inner child got the chance to come alive again nearly 25 years later.
I was lucky enough to be invited to the LA premiere of the film, which took place inside the Dolby Theatre (yes, the home of the Oscars Dolby Theatre). And while the film is definitely geared towards children (and that point shouldn't be forgotten), the beautiful imagery, bright colors (rendered by Dolby Vision,) new and familiar characters, Bailey's emotional acting and ethereal singing (heard crisply, thanks to Dolby Atmos) was enough to keep the adult me engaged and enthused for the nearly two and a half hour film.
It can go without saying at this point but Halle Bailey as Ariel is the most perfect casting for a live-action remake Disney has ever done. The way she was able to capture Ariel's child-like inquisitiveness, stubbornness and yearning is something that should be studied for all other future films. When the latter characteristic was put on full display during her performance of the iconic song, "Part of Your World," it not only caused the crowd to erupt in applause, but it also caused a few thug tears to escape from my eyes. The urge to cry welled up again during the "Kiss the Girl" scene and at the end when Ariel and Price Eric (played by a very cute and convincing Jonah Hauer-King) sailed off into the sunset. And I still haven't put my finger on why that was.
Maybe it's because I was actually allowing myself to escape the realities of adulthood and enjoy the wonders of nostalgia and escapism—if only for a little while. Or maybe it was because watching a Black Ariel swimming around underwater somehow felt like I was seeing and reconnecting with little me, as she twirled around again somewhere on the inside of me and it tugged at my heartstrings. Whatever it was, the feeling was enough to make me want to experience the—dare I say it—magic of the movie over and over again.
That said, there were a few moments that didn't quite stick the landing—Awkwafina's Scuttle the seagull being chief among them. There's a particular scene where the bird is talking underwater for a long period of time and while yes, I get it—it's all make-believe and I should just roll with it—I can't lie and say that the incredulity of that happening wasn't immediately noticed. The same can be said for the umm...music scene between Scuttle and Digg's Sebastian, which I won't sour for you here lest you find yourself a fan. But let's just say: I could've done without it.
In what may end up being a hot take here, McCarthy's rendition of Ursula was also not my favorite. As a true Little Mermaid fan, there's no denying the dramatic, fabulous, sexy and vivacious nature of the original power-hungry sea witch (the way she emphasized "the power of body language" has been living rent-free in my head for years). And despite McCarthy's best efforts—and I do mean best—I just didn't see enough of that in this new film, which was a major miss for me.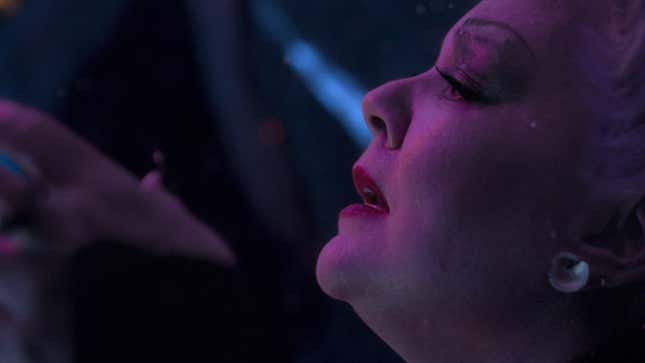 Perhaps my biggest gripe of all was the exclusion of the "Les Poisson" song and scene with Sebastian. It, too, is another small part that's been taking up inventory in my head and garnered literal laughs out loud so not seeing it in this new film was a real letdown.

Despite my few grievances, however, the film overall was a winner. There are some new additions and dialogue that make it glaringly obvious the film is trying to keep up with the times but for the most part, it keeps true to the essence of the original film. And for that, it deserves its due.
I don't mean to sound all hyperbolic but this is definitely a must-sea (ha!) film and Disney's best live-action remake to date and will remain as such until the remake for The Princess and the Frog happens at which point—I'll likely change my stance. So if you fancy yourself a fan of the original, this freshwater take on an old classic is worth taking a dive into.