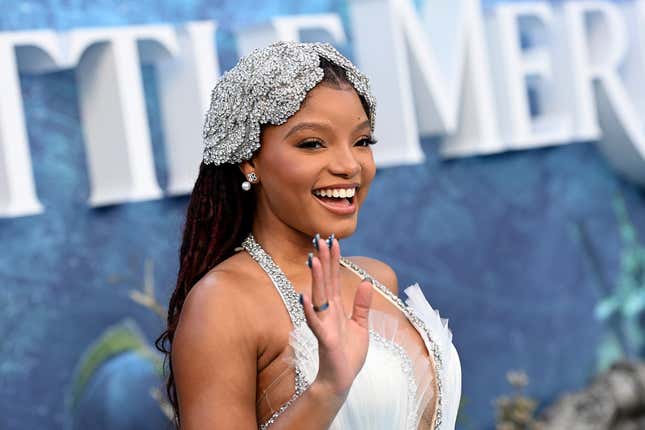 There's no denying that the song "Part of Your World" from Disney's The Little Mermaid holds nostalgic ties to those who grew up watching the classic film. And in the new live action iteration, it looks to be more of the same, especially for the film's star Halle Bailey.
The Little Mermaid Can Talk To A Crab But She Can't Be Black? Get Out Of Here!
Speaking to People, Bailey explained that she filmed that song during the height of the pandemic, when she was isolated and feeling alone from the life and people she held close.
"'Part of Your World' took three days to film. There was a lot of physicality and stunt work involved where I would be spinning, going in the air on the wires and there was a lot to think about," she said. "I was very emotional. I remember I was crying… If you listen to the lyrics, it's such a desperate plea and cry for help. I was able to convey those emotions of feeling alone and underwater in a way."
Although the process may have been difficult, Bailey credits the experience to helping her deliver such a stirring performance of the beloved song.
She continued: "I was grateful that I had that experience of feeling that isolation because I was able to play it through Ariel. I think ultimately it helped my performance."
Halle, you don't have to think: it absolutely did. Watching the clip of her perform the song in its entirety at Disney World for American Idol earlier this week mad me extremely misty-eyed at my big age and that, dear reader, is what you call singing with conviction. If you were on the fence of supporting the film before, let this video of her singing "Part of Your World" be all the convincing you need to see this freshwater take on an old favorite.
The Little Mermaid, starring Halle Bailey, Javier Bardem, Melissa McCarthy, Daveed Diggs and Awkafina hits theaters May 26.