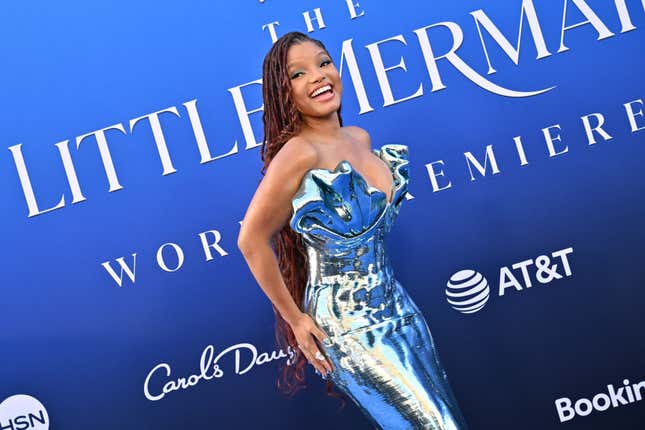 It looks like Halle Bailey got the last laugh! Prior to the premiere of The Little Mermaid (2023), Mena Massoud, who was the title character in the live-action Aladdin (2019) took to Twitter to lay out his doubts about The Little Mermaid's predicted success in the box office tweeting, "Our film was unique in that audiences went to watch it multiple times. It's the only way we reached the billion dollar mark with our opening. My guess is TLM doesn't cross the billion mark but will undoubtedly get a sequel."

The Little Mermaid Can Talk To A Crab But She Can't Be Black? Get Out Of Here!
The internet didn't take kindly to Massoud thinking out loud, throwing insults at him and the Aladdin remake, and protecting Halle and her movie. Massoud's doubts were added to a list of issues that people have with The Little Mermaid remake, all stemming from the fact that Halle Bailey, a Black woman, is playing the iconic Disney princess, Ariel.

Although The Little Mermaid hasn't reached the billion-dollar mark yet, since it was only released May 26, it's definitely a possibility, blowing Aladdin's premiere box office numbers out the window. Aladdin made $113 million over the 2017 Memorial Day weekend, while The Little Mermaid made a whopping $118 million over the 2023 Memorial Day weekend, making it the fifth-highest-grossing Memorial Day weekend premiere in history behind films like Top Gun: Maverick (2022) and Pirates of the Caribbean: At World's End (2007).
It looks like all that hating only added fuel to the fire prompting more people to watch Halle get her mermaid fin turned into legs! When the backlash got to be a little too much, Massoud decided to deactivate his Twitter, probably not expecting so many people to come after him for his hating comments.
Interestingly enough, Black Twitter used to be on Massoud's side. After the release of Aladdin years ago, Massoud used Twitter to let people know he hadn't received a single audition after the film and expressed his struggles with being a person of color in the entertainment industry. Well, looks like he only dug a deeper hole for himself, with Black Twitter turning on him. Sorry to this man.