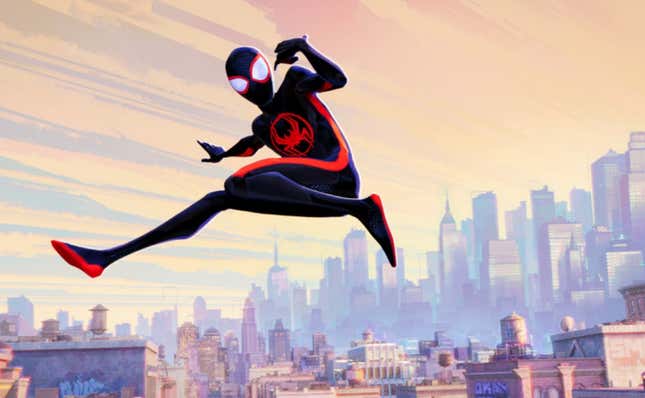 So, it turns out we're in the middle of the Blackest movie summer ever. It's been one awesome hit after another in 2023, and our latest success comes from everyone's favorite Spider-Man, Miles Morales. Based on the success and popularity of Spider-Man: Into the Spider-Verse, we knew its sequel Spider-Man: Across the Spider-Verse would open big, but damn that box office was huge. The latest adventures of Miles Morales entered the scene with a monster $120.5 million, giving it the third highest opening for a Spider-Man movie, coming in behind No Way Home's $260.1 million and Spider-Man 3's $151.1 million. Across the Spider-Verse finished the weekend with $208.6 million globally.

You know what this means? We're definitely going to get a live-action Miles sooner rather than later. I have to believe that Marvel Studios boss Kevin Feige isn't going to let this kind of box office go to waste. MCU star Tom Holland recently told Variety that he's "been having meetings" about Spider-Man 4, but that they're "on pause in solidarity with the writers." While these discussions are in the "very, very early stages," it's very clear that the next chapter of Peter Parker's story should include a team up with Miles Morales. The only real question is whether Shameik Moore will get to play the hero in real life, or whether the MCU version would be younger? Frankly, I wouldn't be mad at Peter visiting the Spider-Verse and hanging out with all the Spider-People.
The Little Mermaid
Miles wasn't the only game-changing hero dominating the box office. Halle Bailey's Ariel continues to change the world's view of a Disney Princess, as The Little Mermaid hit $326 million worldwide. The film's $140 million international haul is particularly impressive when you consider how it's been under an unrealistic level of scrutiny and criticism.
Fast X
In case that wasn't enough of a Black box office take over, Fast X continues the franchise's domination, hitting $603 million globally, speeding toward another billion dollar success. With an 11th movie already confirmed, Fast and Furious 12 likely also happening and Dwayne Johnson returning for a new Hobbs spinoff, we won't be done with The Family anytime soon.
By the way, this is just the start of the Black movie summer, as we still have Dominique Fishback starring in Transformers: Rise of the Beasts on June 9; horror/comedy The Blackening on June 16; the sci-fi/comedy They Cloned Tyrone hitting Netflix on July 21; and Denzel Washington closing out summer with The Equalizer 3 on September 1.