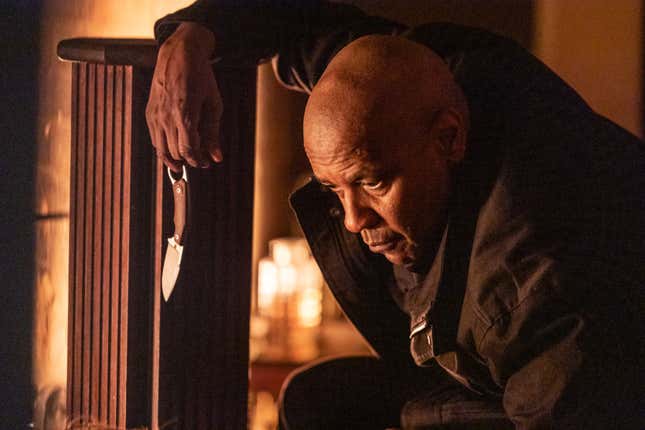 If you love watching Denzel Washington get his brutal vigilante on, I've got some good news for you: The first trailer for The Equalizer 3 is out and Robert McCall looks like he's gotten even more violent since the second film—and it's awesome
Omari Hardwick On The Mother & Jennifer Lopez, Poetry, & More
Here's the official synopsis: "Finding himself surprisingly at home in Southern Italy, he discovers his new friends are under the control of local crime bosses. As events turn deadly, McCall knows what he has to do: become his friends' protector by taking on the mafia."
In case you just discovered Robert McCall through Denzel or the hit CBS series starring Queen Latifah, the character first debuted in the '80s TV series The Equalizer. British actor Edward Woodward starred as a spy who leaves his job at a mysterious intelligence agency when he's exhausted with the politics and sacrifices involved in espionage work. He decides to use his skills to help regular people, putting an ad in the newspaper that reads, "Got a problem? Odds against you? Call the Equalizer: 212 555 4200." It's one of my mom's all-time favorite TV shows so I've seen every episode several times. When they announced Denzel would revive the character in a movie, I was curious how they would update the story for a more modern audience. Obviously, I expected Denzel to elevate the character to new levels—which he did—but I also appreciated how McCall being Black changed the approach of the story.
As a middle-aged Black man with no traceable background, Robert is constantly perceived as a non-threat and is able to stay somewhat invisible in the world. Of course, that's what he wants, but it still provides a fascinating contrast to Woodward's McCall. He drove a Jaguar, wore nice suits everywhere and was instantly taken seriously by police and criminals. As entertaining as the original series is, the remake is much more inclusive, which makes it more interesting.
Adding another fresh element to this is the popular CBS series starring Queen Latifah as Robyn McCall, a former CIA operative who uses her skills to help people in trouble. The Oscar nominee puts her own spin on the character by using her enemies' preconceptions against them. When they're confronted by a Black woman, most subjects immediately underestimate her as a threat. Robyn knows this and often uses it to her advantage. This is an aspect of the McCall character that neither man could have pulled off, and it adds a new unique wrinkle to the overall franchise.
As we prepare to delve back into the McCall world in The Equalizer 3, it's truly fascinating to examine the three different versions of this character. No disrespect to the great Edward Woodward, but the character has become much richer and more complicated since they've been Black. In recent years, we've seen classic characters and stories revived with Black actors taking over. If producers and studios are wondering the right way to do that, look no further than The Equalizer franchise.
The Equalizer 3 hits theaters Sept. 1. CBS' The Equalizer airs Sundays at 8 p.m.