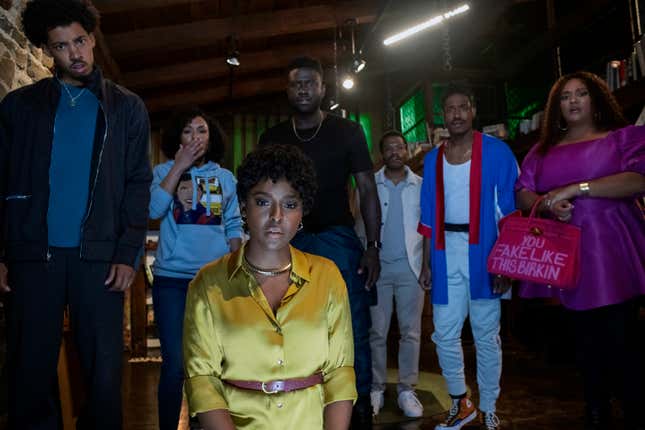 You know how Black characters always die first in horror movies? Well, what happens when everybody in the movie is Black? That's the question the new film, The Blackening, aims to answer. Starring Grace Byers; Jermaine Fowler; Melvin Gregg; X Mayo; Dewayne Perkins; Antoinette Robertson; Sinqua Walls; Jay Pharoah; and Yvonne Orji, the ridiculous horror comedy follows a group of friends as they take a trip to a secluded cabin for Juneteenth, where they are unknowingly trapped in a violent game with bloody consequences.

The trailer pokes fun at the classic trope by making the characters choose who the Blackest friend is so they can be killed first. It also highlights the idea that Black characters are always the smartest ones in horror movies. They're the ones who know not to trust that creepy white guy with a mysterious past, but no one else listens and they end up dead. In The Blackening, just as one friend is about to suggest they split up, everyone else is mocking them for their stupidity.
Black characters in horror movies traditionally fall into two categories: they're either the unassuming, forgettable friend who gets killed in the first 20 minutes, or they're an over the top caricature of someone from "the hood" who is also killed in the first 20 minutes. The Black friend is just there to be the "Black friend"—and probably reveal some exposition that becomes critically important later. Yes, there are a few rare exceptions to these rules, but let's not pretend like there's a lot of them.
Using comedy to poke fun at these outdated tropes allows the filmmakers to comment on how truly stupid and old fashioned they are in a non-threatening way. I'm not putting The Blackening on the same level as Jordan Peele's films, but it seems to be using a similar tactic to jump start a conversation about race.
And frankly, it just looks like a funny movie. Not everything needs to be an award-winning masterpiece. Sometimes you just want to go to the movies and have a good time. Apparently, the internet agrees with me because the reactions on social media are appropriately hilarious.
G/O Media may get a commission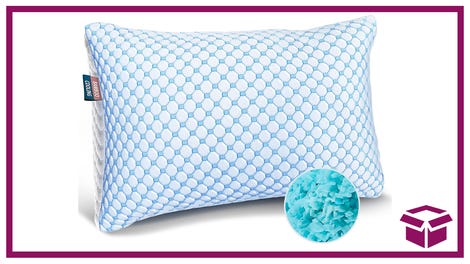 23% off
Nestl Cooling Pillow - Queen Size
The Blackening hits theaters June 16.