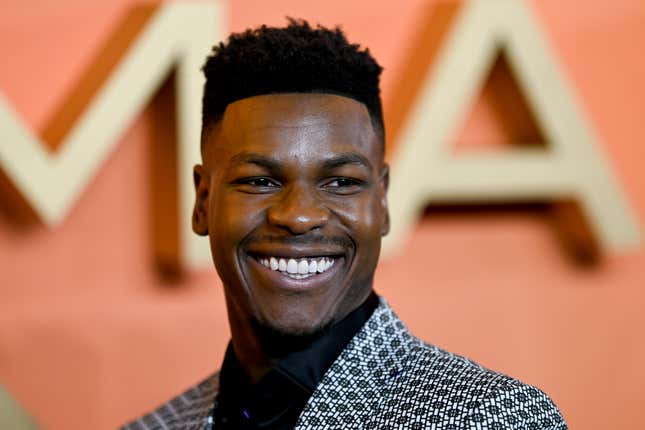 John Boyega may be best known for playing Finn in Star Wars, but he's always been the type of actor to choose interesting, unexpected projects. He continues that trend with the upcoming Netflix sci-fi/comedy They Cloned Tyrone. Premiering July 21, the celebration of '70s Blaxploitation films follows a drug dealer, hooker and pimp as they unravel a mysterious conspiracy. Boyega plays Fontaine, the drug dealer; Teyonah Parris is Yo-Yo, the hooker; and Jamie Foxx plays Slick Charles, the pimp. In an interview with Entertainment Weekly, Boyega explained how highlighting the influence of the Blaxploitation genre was one of the reasons he wanted to do the film.

Jamie Foxx In They Cloned Tyrone Is Our TV Pick of the Week
"There's something about us being able to be silly about aspects of our culture that makes me laugh," Boyega said. "Blaxploitation films always represented movies that let us express ourselves, and we could just look snazzy and do cool shit. It didn't matter if we knew kung fu. It just all made sense with the music, with the vibes. I'm just proud to at least be a part of something that pays homage to that."
The Woman King star also wanted to work with co-writer/director Juel Taylor. Having previously written Creed II and Space Jam: A New Legacy, Taylor brought a blend of comedy, mystery and horror to the movie.
"I loved the concept," Boyega said. "I already had heard about Juel Taylor's mind from behind the scenes. There were rumors of this young director who had a new perspective on entertainment and a new perspective on storytelling."
The Breaking actor was also fascinated by the originality of the project, which he says has "a new vibe entirely." He was drawn to its unique voice.
"I think it's a new creative direction. There's been a lot of talk right now about big studio projects and wanting more nuanced stories, going back to those dramas and comedies that we miss, especially during the heyday of Black cinema," he said. "I think this is a cool representation of that, with really funny moments."
There's also a celebration of Blackness in They Cloned Tyrone, with representation evident both in front of and behind the camera. The actor calls the production "the number one best ever time" he's had making a movie. He contributes a lot of that fun to Foxx. Boyega was inspired by how the Oscar-winner treated the cast, crew and fans who showed up to watch them work.
"He invited us all to his house, put us through his initiation process, which is basically just vibing, talking, getting to know each other," Boyega said. "In Jamie we trust."
They Cloned Tyrone premieres July 21 on Netflix.