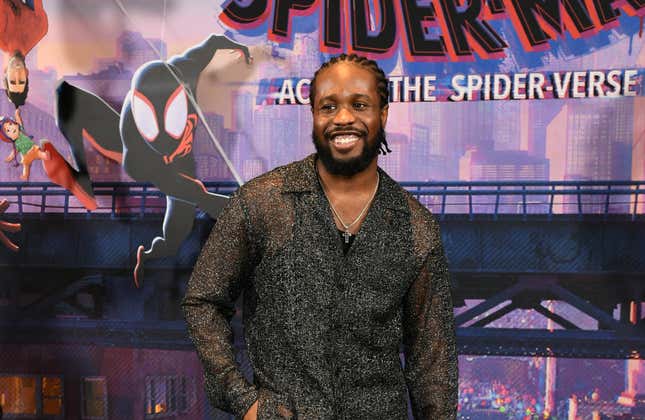 When you create something as big and influential as Spider-Man: Into the Spider-Verse, the follow-up has to be even more spectacular than the original. Trailers for Spider-Man: Across the Spider-Verse have shown audiences that they can expect even more alternate universes and Spider-People this time around. Amid all the new characters and adventures, Miles Morales and Gwen Stacy's relationship grows even stronger. Ahead of the sequel's June 2 release, the film's stars, Shameik Moore and Hailee Steinfeld, spoke to The Root about what's up with Miles and Gwen.

Samuel L. Jackson Returns As Nick Fury in Marvel's Secret Invasion–Our TV Pick This Week
Miles Morales has been an extremely popular character since he was introduced in 2011, so comic book fans were expecting the first movie to be a hit. The cast and crew felt like they had something special, but even they were shocked at the cultural impact the film had.
"When you're working with a group of people that are as talented as the team behind this, and as passionate, you know you're gonna get something great," Steinfeld told The Root. "But you can only hope that it does what that thing did."
Like his character, Miles, Shameik is not worried about the pressure of leading such a popular, successful franchise. He credits the support from his co-stars and fellow artists with boosting his confidence.
"One of my affirmations is, 'I exceed all expectations, especially my own.' I think I laced my boots up and I came to play," Moore said. "I had a lot of trust from my castmates, the directors, the writers and the animators. I knew we was coming in swinging. There wasn't a doubt in my mind."
Even with the beautiful animation, fun characters and captivating action, the Spider-Verse films are built on the relationship between Miles and Gwen. It's their bond that drives the movie and gives the audience something to invest in. They're the human story behind the superhero action.
"They might be the only people that they feel completely seen and heard by," Steinfeld said. "They're up against a lot of the same obstacles. If you're not in that position, I imagine it'd be hard to understand. They have each other to lean on, to relate to and to help get through what it is they're going through. Because it's quite a lot."
These movies are truly something special. The way Miles' regular life seamlessly blends into his superhero world makes him feel more like a friend you're checking in with than a hero trying to save the multiverse.
Spider-Man: Across the Spider-Verse swings into theaters June 2.