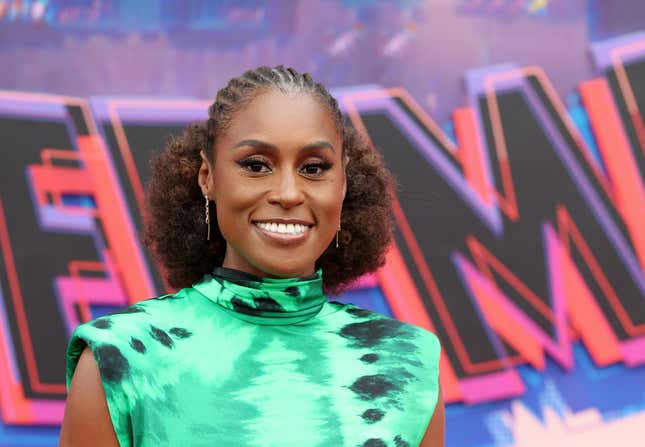 Producers of the highly-anticipated sequel Spider-Man: Across the Spider-Verse certainly didn't rest on the laurels of the first film's success. To that end, they brought in award-winning Insecure star Issa Rae to join the cast as popular character, Jessica Drew/Spider-Woman. Rae spoke to The Root about playing the groundbreaking hero and whether she's ready for a real-world superhero universe.

2023 Oscars: Ruth Carter On Turning Angela Bassett Into A Queen Through Costume
The Spider-Verse films are known for delivering fresh versions of familiar characters, and that's what the sequel does with Spider-Woman. In a cool, history-making moment, we get our first pregnant superhero. This may not seem like a big deal, but it's really impactful to not only see a woman save the day but to see them do it while pregnant is awesome.
"Jessica Drew is a combination of various versions because there are so many versions in the comics. One of those has her being pregnant, which I think is a very brave and bold decision to do in a superhero movie where you have her fighting crime and saving the universe while seven, eight months pregnant," she said. "That was a bit jarring for me initially to see and hear but when you step back and think about her relationship with Gwen, who she serves as a mentor to and she serves as this kind of parental figure as well, I thought it was just a cool indication of how brave, bold and superheroic mothers are, and pregnant women in particular are."
For some actors, working in animation provides a freedom they don't necessarily get in a live-action performance, as they can just let go in the booth and not worry about all the extras that come along with filming. However, Rae notes that as refreshing as it is to have less background stress involved, there are still some things she missed while recording her role.
"There's for sure less pressure because it's such an intimate relationship with the directors. It's a direct relationship with the directors and they're just there. There's not the pressure of 'Oh, we have six hours of daylight to capture this.' You really get to take your time and mold this person," she said. "So in that way, it's super free. But there's also obvious limitations. I love working with other actors and I love seeing the physical space. You don't always get to do that with animation."
In case you're wondering if this animated foray into the superhero world has given Issa the itch to suit up in real life, she says she has a "long way to go" before she's ready to be an action hero.
"I have to step my game up because…when I was looking at what this cartoon animated version was doing, I'm so glad all I had to do was sit down in a booth," Rae said.
Spider-Man: Across the Spider-Verse is now playing in theaters.