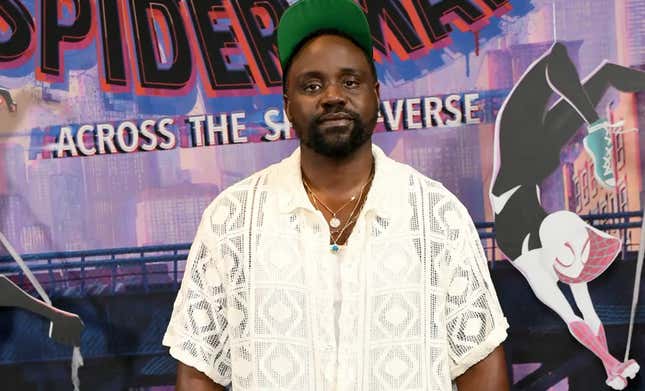 From the moment he first hit comic book pages in 2011, we knew there was something special about Miles Morales. The Oscar-winning 2018 film Spider-Man: Into the Spider-Verse, let the rest of the world see how important the existence of this character is. With the long-awaited follow-up Spider-Man: Across the Spider-Verse finally hitting theaters, we're ready to learn more about the Spider-Verse and meet even more Spider-People. However, Miles' parents will continue to be a grounding force in his life. Returning stars Brian Tyree Henry and Luna Lauren Velez—who once again voice Miles' father Jefferson Davis and his mother Rio Morales—spoke to The Root about the franchise's impact and their excitement to be back in the Spider-Verse.

Wakanda Forever's Letitia Wright & Tenoch Huerta On Their Characters' Parallel Struggles
For veteran actress Velez, working in the superhero genre was foreign to her. Since she hadn't checked in on Spider-Man since the "upside-down kiss," the huge reaction to the first film surprised her. But it quickly became clear that she was involved in a special experience.
"I was so happy to finally see this kind of representation. There were some kids outside, these beautiful Afro-Latino kids. When I told them 'You are about to see somebody that looks like you,' their mouths dropped open," Velez told The Root. "I will never forget that moment and being part of that. And this being an even bigger part of showing this family, and how this family is growing. It's just exceptional."
Henry loves how the Spider-Verse movies showcase the authenticity of the Morales family. He feels like that's what drives the franchise's success: The audience sees itself in Miles and his family, which allows them to connect with the story on a deeper level.
"To see this vision be actualized, to see that there is a Spider-Man with Jordans on, you yearn to pinch yourself when you realize that this won an Oscar for animated feature. You pinch yourself when you get to see things like this," the Oscar nominee said. "It all still feels very out of body, but it also is a representation of the world we live in. It's something that I've yearned for. No disrespect to Tobey Maguire and the other Spider-Man [films] that have come before but this one just feels rooted in something incredibly authentic, and something incredibly genuine. I hope that the audience really feels like a piece of you is a part of it. The thing about some of these franchises is that they like to say that the ownership belongs to all of us, but it doesn't always feel that way. Now, with movies like this, it really feels like there's some ownership. It really feels like there's a reflection that's happening. It makes me feel so honored to be a part of it, especially to be with the people that I get to do it with."
Spider-Man: Across the Spider-Verse swings into theaters June 2. Then we can start preparing for the third film, Spider-Man: Beyond the Spider-Verse, which is scheduled for release on March 29, 2024.