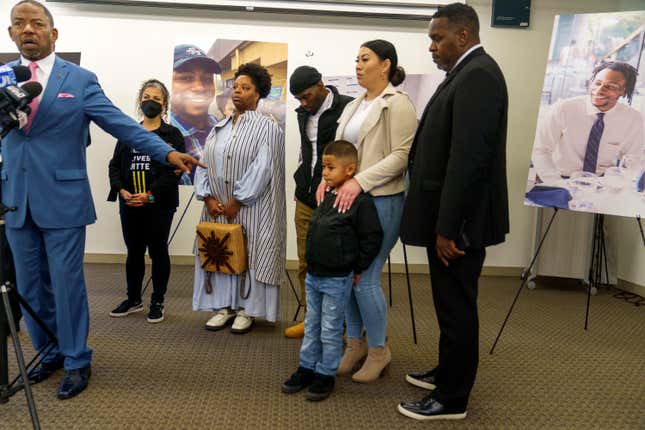 As expected, a police union has entered from stage right to defend the actions of their officers this month. The Los Angeles Police Department became the center of controversy following the viral arrest of BLM co-founder Patrisse Cullors' cousin Keenan Anderson, who died following the traffic stop.
Courtney B. Vance in Heist 88 Is Our Black TV Pick of the Week
Now, they're under scrutiny from the public given Anderson's death was speculated to be the third traffic stop by the LAPD that turned fatal this year (and we're only in January). The LAPD Shootings and Critical Incidents website has not documented the incidents, including Anderson's.
According to an ABC7 report, the Los Angeles Police Protective League made a statement on the two men who were shot and Anderson who was Tased. The report says all three men were suffering from mental illness and instead of the LAPD's Mental Evaluation Unit being called, the cops responded. Even Police Chief Michel Moore was concerned about it.
In a five-page waste of time, written to the mayor and city council, the LAPPL defended the officers and pointed toward the MEU's lack of resources as reason for the fatal outcome of each case.
More from ABC7 Los Angeles:
But police union officials say the officers did nothing wrong and that the outcomes of the three cases would not have been different had mental health evaluators been summoned, since those evaluators are not allowed to interact with violent suspects until armed officers are able to secure the scene and make sure there are no threats.

"In all three incidents that we talked about today, nothing would have changed if an MEU unit was at the scene," said Detective Jamie McBride, the LAPPL Board Director. "In any of these incidents, they have to be rendered safe first before a mental evaluation unit can come up."

McBride says LAPD's policies and protocols are clear: It's Mental Evaluation Units and Systemwide Mental Assessment Response Teams, known as SMART, are classified as second responders.
Well, the officers involved in Anderson's case will be evaluated on just how well they followed protocol on both state and federal levels.
Attorney Benjamin Crump and O.J. Simpson's former defense attorney Carl Douglas announced the filing of a wrongful death claim, seeking $50 million in damages, Friday. The claim was filed on behalf of Anderson's 5-year-old son, per the LA Times.
"Mr. Anderson did nothing to justify this use of serious and unreasonable force against him.... The Claimants are informed and believe that because of implicit bias, each of the unknown involved police officers assumed Mr. Anderson presented a serious threat to someone's safety, and then assaulted, battered and tased him at least six times in response.," read the claim. "- the City of Los Angeles negligently trained these police officers as to the appropriate circumstances and techniques to deploy when using nonlethal force, including tasers, leading to the actions and failures to act as alleged here."