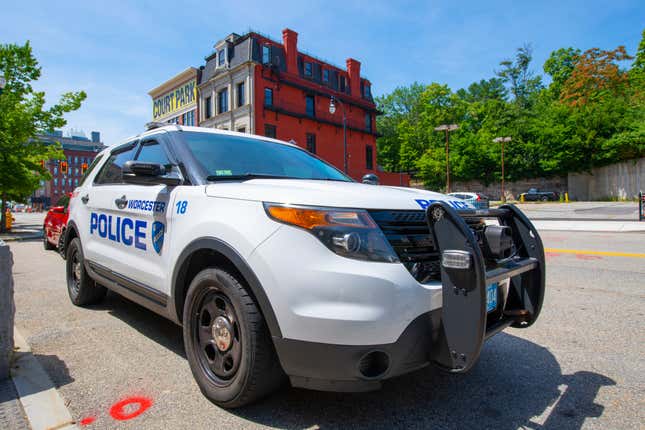 A Black Massachusetts man is suing the Worcester Police Department for racial profiling after allegedly pulling him over more than 70 times in just the past eight years, per GBH News. He's still fighting charges from one of his previous police interactions.

T.J. Juty says he has been suspected of stealing cars and selling drugs before even being apprehended with a warrant. The report says he was pulled over in 2021 for not updating his new car color on his registration. By law, he wasn't required to, but instead Juty was charged with disorderly conduct and interfering with a police officer after an intense exchange. Worcester hasn't implemented a strict body camera policy. Luckily, Juty recorded the stop to present as evidence.
"I feel like every single time, even if I'm not driving, and I make eye contact or an officer sees my dreads or he sees I'm Black, they're going to come after me. I just know whenever they're coming now, I just have my phone ready to record," Juty told GBH.
Massachusetts has long been suspected of discriminating against Black and Hispanic drivers. Just last year, the Department of Justice launched an investigation into claims of excessive force and racially biased policing.
Many of those claims were documented by Joseph Hennessey, Juty's attorney.
Read more from CBS News:
Attorney Joseph Hennessey told WBZ he and other local lawyers have been reporting misconduct within the department for years. The Justice Department will be reaching out to the public about their experiences with Worcester Police. They will also evaluate how officers train, collect evidence, and complete investigations.

At the beginning of the month, video was released from an incident where Worcester Police tasered a pastor in his church. The police body camera footage was used during Rev. Joseph Rizzuti, Sr.'s trial, where he was acquitted on charges of assault and battery on a police officer and resisting arrest. Hennessey said Rizzuti is one of many clients who have experienced excessive force. He shared several videos with WBZ of other instances where his clients were targeted unfairly by police.

Video shows a Black man as a passenger in a vehicle being told to get out of the car by police. The man says, "I'm in the passenger seat." The officer responds, "yeah you look like someone who has a warrant."

In another video a Hispanic woman is recording officers searching her car after being pulled over. She was driving with her mom. Nothing was found in their search but when an officer saw her taking a video, he ripped her cell phone out of her hands.
It gets sticky, though. A statewide study from the Massachusetts Executive Office of Public Safety and Security found no evidence to suggest Black drivers are more likely to get pulled over. The bulk of their methodology came from a "Veil of Darkness" analysis, which concluded nonwhite drivers were less likely to be stopped by police - but during the day when an officer could determine their race.
The previous studies that found Black drivers were more likely to be stopped or have their vehicles searched were practically disregarded. According to GBH, the city of Worcester paid up to $5 million to settle lawsuits alleging false arrests and excessive force since 2006.
Regardless of the report, the issues still remain. One 10-month long study can't discredit the years of racism Black drivers have experienced.