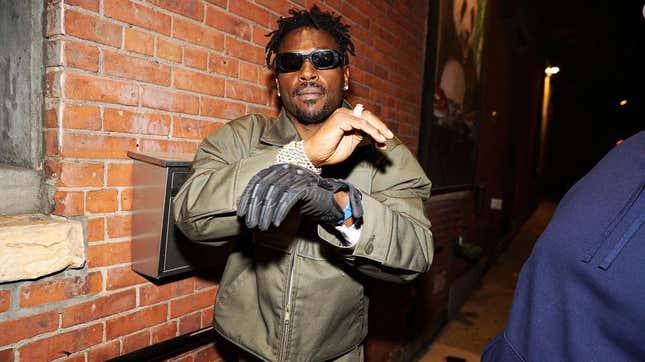 If Antonio Brown is involved, trouble has likely followed him. In 2022 alone, Brown ripped off his jersey in the middle of an NFL game and quit on the Tampa Bay Buccaneers; he publicly embarrassed R&B singer Keyshia Cole on social media; he was caught on video exposing himself to a woman; and last month he was wanted on a domestic battery charge by Tampa Bay police.
Black Hollywood's Mom, Jenifer Lewis, Plays That's So Random
The same woman involved in the domestic battery incident was also heard accusing the Super Bowl champion of sending "explicit" videos to their son on Nov. 28. In 911 audio obtained by TMZ, the woman can be heard talking to Tampa Bay police and explaining that she had just gotten into an argument with Brown, the father of their children.
She described Brown "throwing a fit" once she arrived at their house, claiming that she took her kids outside of the estate to de-escalate the situation. Once she went outside, she told the operator that Brown started to throw all her clothes out of the house and attempted to evict her from their home.
According to TMZ, the woman can be heard yelling at the former NFL player, telling him, "This is not legal! You might want to go inside! You better hide out!" before telling the operator that Brown was "sending explicit videos to my son's phone." Although, the content of those alleged "explicit videos" has not been shared.
When Tampa Bay Police eventually arrived at the scene, they say that they saw Brown throw a shoe at the woman, which led to the warrant for his arrest. On Dec. 1, when police attempted to serve the arrest warrant to Brown at his home in South Tampa, he ultimately refused to come out of his home and, as a result, the police left his residence without him.
Per the story from TMZ, prosecuting attorneys shared on Dec. 21 that they were not filing charges against the former Pittsburgh Steeler because the victim, the mother of Brown's children, recanted her allegations.
Despite not being arrested or criminally charged in this case, just add this latest incident to the growing list of reasons Antonio Brown will probably not play for an NFL team again.