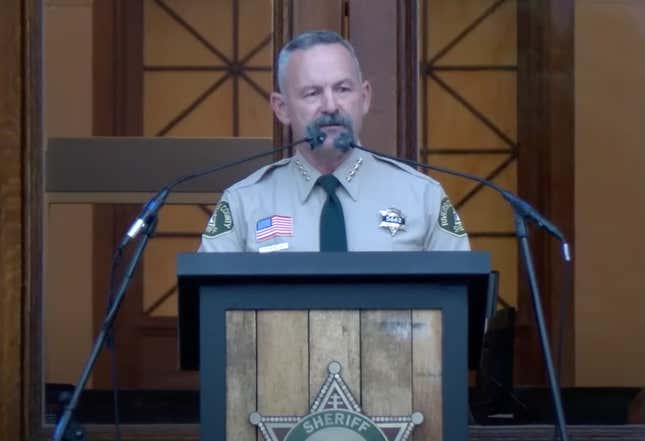 Chad Bianco was sworn into his second term as sheriff of Riverside County, Ca. despite his controversial (and extra conservative) past and previous lawsuits, per The Press-Enterprise. The sheriff celebrated his return to office with a speech praising the police department for showing the world how to handle the BLM "rioters."

Small Town Horror Story: The Vietnam Veteran Who Refused To Leave A Man Behind
Bianco won re-election with 61 percent of the vote, the report says. He seemed to fit the profile of who conservatives would elect. According to the Press-Enterprise, he was a former member of the white supremacist Oath Keepers, he pushed back on COVID-19 pandemic restrictions and also made appearances on Fox News to bicker with left-wing critics. All he's missing is a MAGA hat.
Bianco's department was also accused of mistreating jail inmates of color and was sued by a county council member for libel after accusing them of supporting vandalism during an abortion rights protest.
Yet, he made it to another term. By his speech you would have thought he was still living in June of 2020.
Read an excerpt from his speech from Press-Enterprise:
Bianco's Wednesday speech touched on a number of topics, from his gratitude to voters, Sheriff's Department leaders and employees to the departments' work to lower crime, engage with the community and make the county a desirable place to live.

"I had a few curveballs thrown at us in the form of civil unrest, a worldwide pandemic, and what seemed like a hatred for law enforcement officers with national cries to defund the police," said Bianco, who called California "once the greatest state in this country."

"Unfortunately for us, what we saw on the television at the time of so-called peaceful demonstrations, which always turn to riots, with cities burning, people being hurt, businesses being looted, law enforcement agencies being overrun, with some standing by doing nothing, made its way to Riverside County," Bianco said. "When it was over, we had no burned buildings, very little property damage and no reported injuries to law enforcement, rioters or our residents. We showed the world what should have been done in those situations."
A few government officials criticized Bianco's remarks. Assembly member Corey Jackson said the speech showed Bianco doesn't respect the "historical trauma" of the Black community or history of white supremacy in law enforcement, per the report.

If Bianco isn't another example of a conservative living in their own imagination I don't know what is. Ignorance is bliss not only for your confederate-flag waving neighbor, but government-elects too.