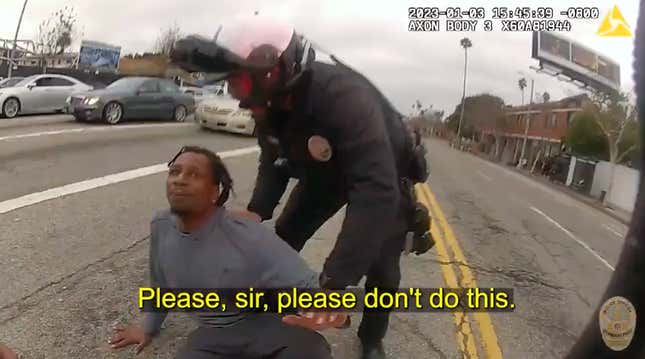 Updated as of 1/13/2023 at 9:00 a.m. ET
Los Angeles Police Department released the body camera footage showing the moments leading to Keenan Anderson being detained, per NBC News. Anderson died following the incident causing his cousin, Black Lives Matter co-founder Patrisse Cullors, to demand for the footage to be released.
Caleb McLaughlin on Lebron James' Biopic Shooting Stars, Stranger Things, & First Big Paycheck
"Please, sir, I didn't mean to, sir. Please. Please. I'm sorry," Anderson is heard saying in the footage. He appears visibly frightened as more officers arrive on the scene surrounding him. Though, in the multiple videos, it appears he's trying to explain what happened.
In one video, Anderson tells an officer he lost his key and had someone come to fix his car. He then tells the officer someone was trying to kill him and that "they" were going to try to "put stuff in his car." The officer then orders Anderson to go stand against the wall. He refuses, walking out to the corner saying, "I want people to see me."
"We're all watching you, okay?" says a bystander off-camera.
Anderson then jogs across the street and situation escalates.
More on the footage from NBC News:

The body camera video shows Anderson lying on his back in the middle of the street in front of a car. Several officers tell him to turn over on his stomach, and when he does not, they grab him, the video shows.

"Please, sir, don't do this," Anderson says in the video. "Please, help me, please. ... They're trying to kill me. Please, please, please, please, please, please."

The officers tell Anderson that if he does not stop resisting, they will Taser him. The video shows one officer, who appears to be Black, placing his elbow on Anderson's neck to pin him to the ground.

As Anderson and the police struggle, an officer is seen in the video deploying his Taser repeatedly. He is later handcuffed and placed in an ambulance to be evaluated for the Taser deployment, according to [LAPD spokesperson Kelly] Muñiz and the video.
Cullors told NBC the footage was "shocking" and "disturbing" to watch. She said her cousin her appeared to be flagging officers down for help but was ignored. She also said the police shouldn't have been the primary respondents to the car crash.
"If there's an accident, then it should be ambulance and firefighters. There should be professionals who are trained in crisis management. If my cousin did not have to interact with LAPD that day, he would be alive," said Cullors.
Previous reporting...
Anderson, 31, had caused a car crash in the middle of Venice Boulevard Jan. 3. Authorities say he was "behaving erratically" and tried to flee custody as the officers tried to conduct a DUI investigation. A struggle ensued between the officers and Anderson until they resorted to using their Taser in addition to physical restraints to detain him. They handcuffed him and tied his ankles together. The altercation resulted in him going into cardiac arrest and he died in the hospital.

Anderson was a high school English teacher and father.
"LAPD has killed three people this year. One of them is my family member. Keenan deserves to be alive right now, his child deserves to be raised by his father. Keenan we will fight for you and for all of our loved ones impacted by state violence," read Cullors' tribute post.
Read more about the incident from Daily Mail:
On the same day, the LAPD fatally shot a man armed with a sharp object in South LA and the day before another man, holding a large knife, was shot dead.

When asked for video of the events that lead to Anderson's death an LAPD official said that 'body worn video is released 45 days following a critical incident.'

The LAPD have classified Anderson's death as 'in-custody' and said its Force Investigation Division will conduct an investigation.
Mapping Police Violence reported a record number of police killings in 2022. At least 1,183 people - cousins, brothers, sisters - were killed. Nearly every day someone lost their life at the hands of someone paid to protect it.

Though Cullors still faces some criticism from the public following the BLM donations scandal, her loss brings the spotlight back to why the organization was created in the first place. Some police just don't care about Black lives and because they don't, they should be held accountable when they take them.