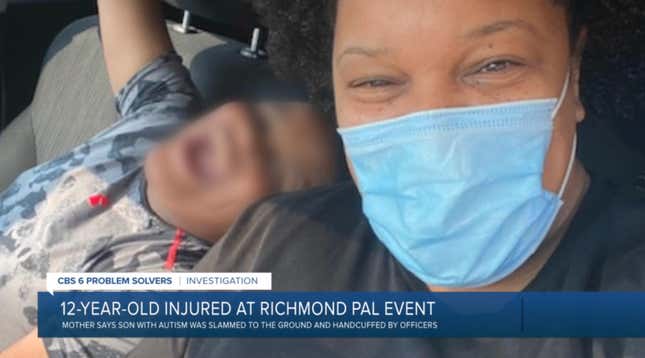 Sheila Jackson is speaking out after her 12-year-old autistic son suffered a serious injury by police at an after-school tennis program ran by local police volunteers, according to WTVR News. Jackson submitted her son to the program thinking he'd learn to bond with the police but instead arrived to pick up only to see him handcuffed on the ground.

Small Town Horror: The Story Of A Teacher Driven From Her Job By An Anti-CRT Group
"I wanted him to have a positive view of police officers and not all the negativity he sees on TV," Jackson said.
On Nov. 3, Jackson went to pick her son up from the tennis program held at Virginia Commonwealth University. Jackson told reporters her uncle was a police officer, which led her to want her son to gain the same respect for law enforcement as she had. The Richmond Police Department program volunteers told Jackson her son got frustrated while trying to serve the ball and was told to play on the side instead.
Allegedly, he raised his voice at one of the officers and walked away from them, leading to an altercation. The details of the incident remain unclear.
Read more from WTVR:
"He knows to try to self-regulate and walk away from a situation, she may have thought he was being defiant," Jackson said.

After that, Jackson said her son said the officer grabbed him.

"When I got here my son was handcuffed on the ground right behind where that fence is opened," Jackson said. "There was an officer holding his head, there was an officer on his left leg, someone on his right leg, there was an officer on his right side kneeling holding his shoulders down and then there was another officer standing up."

Jackson said Richmond Police told her that her son headbutted an officer while they detained him, and they were worried he was going to run. But she is still not sure why he was handcuffed, and what exactly happened that caused him to get a concussion.
Jackson said she's been inquiring about the incident with the department but to no avail, per the report. She even paid $5 for an incident report but the description of what happened was not there.

The Autism Society of America has found that 1 in 5 autistic young people interact with the police before the age of 21. Also, police interactions with disabled people are more likely to result in injuries and fatalities as a result of lack of training and abuse of excessive force.

As a result of the incident, Jackson said her son suffered not only from the concussion but also from mental trauma following the incident. Thankfully, he left the encounter alive.