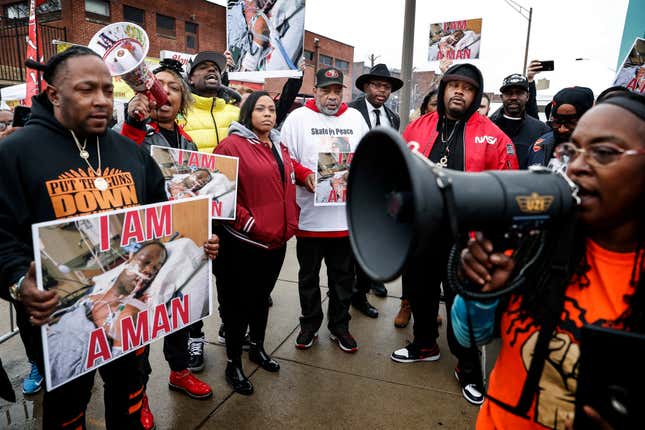 The Department of Justice and FBI announced a civil rights inquiry into the traffic stop that occurred before the death of Tyre Nichols, per NBC News. The Tennessee Bureau of Investigation and Memphis Police Department have already launched internal investigations into the incident.

Brian Tyree Henry in Hulu's Class of '09 Is Our TV Pick This Week
The swift response from each agency is a hopeful sign that some accountability may come out of this.

Nichols, 29, was sent to the hospital in critical condition following what appeared to be a routine traffic stop. Authorities noted he was put in an ambulance following the interaction, but neglected to share details as to how he became injured. It wasn't until Nichols' family publicly circulated the beaten and bloodied image of him that the department scrambled to find answers that would fill in the gap between the arrest and Nichols' death three days later.
The FBI's Memphis field office and Civil Rights Division of the Department of Justice have launched a civil rights investigation into the incident. In effect, the pressure is on now.
Read the statement from the Justice Department:
Kevin G. Ritz, United States Attorney for the Western District of Tennessee, issued the following statement today:

"Last week, Tyre Nichols tragically died, a few days after he was involved in an incident where Memphis Police Department officers used force during his arrest. State authorities have publicly announced that the Tennessee Bureau of Investigation is investigating. In addition, the United States Attorney's Office, in coordination with the FBI Memphis Field Office and the Civil Rights Division of the Department of Justice, has opened a civil rights investigation. As this is an open investigation, we are not able to provide additional comment or release further information at this time."
Even Mr. Ritz called a spade a spade: the use of force must have been the reason why Nichols ended up in the hospital. So, why didn't the police department mention that in their multiple press releases regarding the incident?
Memphis Mayor Jim Strickland said the city's internal investigation into potential policy violations should be complete in mere days, per ABC 24 News. For now, the officers have been relieved of duty. Strickland also clarified that the punishment the officers faced from the department was not related to criminal culpability.
Following the internal affairs investigation, the body camera footage of the police interaction with Nichols will be released to the family for private viewing and then to the public.
"When we say video would be released, it will be ALL video," said Strickland.
Hard to say whether any of this would have happened were it not for the family's insistence on answers. Maybe one day they will truly practice the transparency they preach.