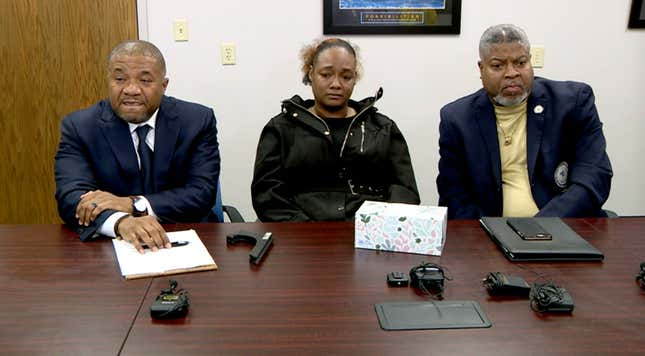 Updated as of 1/23/2023 at 12:30 p.m. ET
The Ohio police officer caught on video punching a McDonald's customer is on leave following the circulation of the footage, per NBC News. We didn't know much about the incident beyond the scuffle and a slice of cheese. After a press conference last week, it's bit clearer what led to the altercation.
At first, Latinka Hancock told WHIO 7 she got in an altercation with an employee over an incorrect order. She went inside the store with her receipt asking for an extra slice of cheese on her Big Mac. Hancock told reporters the worker was told by their manager to fix her order but the worker declined and became "aggressive" toward her. The worker called the police and Hancock walked out, where she met the cops in the parking lot.
According to Police Chief John Porter, the employee asked for Hancock to be written up for trespassing on the property. When the officers arrived, they asked Hancock for identification so they could issue the trespassing notice but she refused, per the report. From that point, the officers tried to place her under arrest and as she resisted, they considered her to be disorderly. Reports say in addition to being punched, Hancock was also held with a Taser to her head
"You're going to make it more difficult than it has to be," said Sgt. Todd Stanley in the body camera footage.
"If you arrest me, I swear you're going to have a problem," Hancock responded, via ABC.
NAACP Dayton President Dr. Derrick Ford and Hancock's attorney Michael L. Wright denounced the officer's actions as unnecessary. Sgt. Stanley was put on leave and is currently under investigation but the two called for termination and charges.
"The way he handled Ms. Hancock was despicable. This was brutal and so unnecessary," Wright said via NBC.
Previous reporting...
The original clip was posted on Facebook by Dayton 24/7, two officers were seen holding a Black woman by her arms. As she appears to resist their grip, one officer punches her in the face.
Read more about it from The Daily Beast:

In the clip, two police officers can be seen standing in front of their police cruiser in a parking lot while moving to restrain the woman, identified by her attorney's office as Latinka Hancock.

At the beginning of the footage, which has no sound, Hancock can be seen speaking to the officers as she tries to push them away. A cop on the left, identified by Butler Township Chief of Police John Porter as Tim Zellers, appears to be pointing a stun gun in his right hand at Hancock. Meanwhile, an officer to the right, identified as Sergeant Todd Stanley, holds her arm and shoulder.

At one point, Hancock appears to wave her hands around, and Stanley punches her in the face multiple times until Hancock falls back on the hood of the cruiser. The officers then hold Hancock against the car as Zellers handcuffs her.
As a result of the incident, Hancock was sent to the hospital with a head injury and busted lip. Police Chief Porter said in a press conference that one of the officers had been put on administrative leave upon a pending administrative investigation. He also said the use of force is likely in situations where an officer must protect himself.
However, Hancock's attorney claimed the officers arrived on scene looking for a problem. "It's obvious [from the] body cam that these officers came with a chip on their shoulders, looking for a fight rather than to de-escalate," said attorney Michael L. Wright via WHIO.
Was calling the police necessary? Folks really need to be careful pulling the 911 card for minor issues.