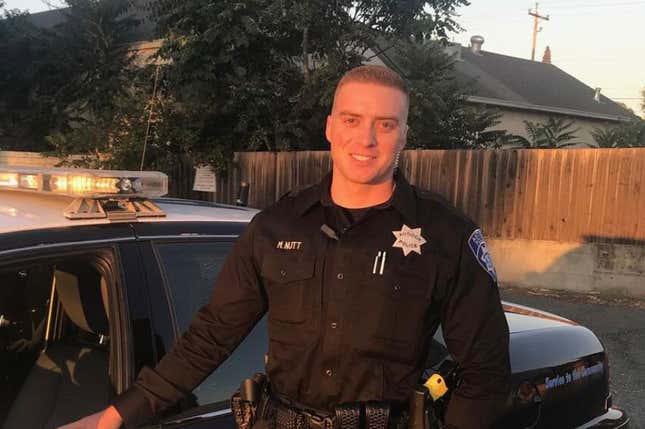 Things are increasingly looking worse for the reputation of the Antioch Police Department. One of their former employees has just been slammed with assault charges for an incident that happened while he still had his badge and gun, according to KTVU.

Fighting "Lie-abetes": How To Spot And Combat Disinformation and Conspiracies In Politics | The 411: Part 2
Former officer Matthew Nutt is accused of assaulting a man he placed under arrest during a traffic stop in July 2022. Authorities say Nutt pulled over a driver for not displaying his license plates. During the stop, he realized the passenger, Terry Robinson, had warrants for his arrest. While taking Robinson into custody, he allegedly refused to sit in the back of the police car and resisted arrest. In response, the ex-cop began punching and kicking the man.
The ex-cop's body camera wasn't turned on after he swung his elbows and kneecaps at the man. However, the footage shows the man yelling, "I'm having a panic attack! I need medical!" By that time, several more police officers had arrived, attempting to force him inside the car.
It took almost a year after the incident for Nutt to see any repercussions.
Read more from KTVU:
Matthew Nutt allegedly assaulted a man during an arrest in a July 2022 traffic stop, said officials. Nutt is also accused of violating several department policies on force: using unreasonable force, failure to de-escalate, and failing to use "alternative tactics."

An automatic review of Nutt's body-camera footage was initiated after his "application of force." During the review, a supervisor had concerns believing Nutt's actions possibly violated the department's policies on use of force.

An internal investigation against Nutt was conducted, and Nutt was moved into a role where he had no "direct public contact." He was fired on April 21, 2023. Nutt was charged with one misdemeanor count of assault by a public officer Tuesday by the Contra Costa County District Attorney.
Nutt was fired right in the heat of the Antioch racist text scandal when a Contra Costa County judge agreed to release the messages to the public. He was named as one of the officers who received a message offering a prime rib dinner to any cop who shot Mayor Lamar Thorpe with a nonlethal projectile, per CBS Bay Area.
However, he is not accused of sending any hateful messages himself.