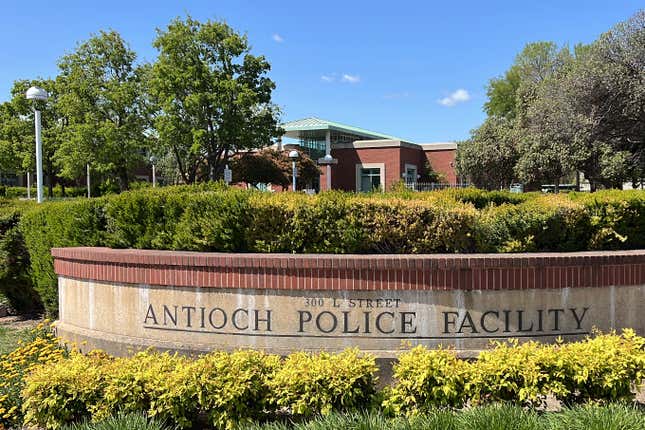 After a judge released the racist messages exchanged between over a dozen Antioch, Ca. police officers, city residents and officials were infuriated. According to AP News, the Antioch City Council unanimously approved audits of the department's hiring process and office culture to see how long the officers' behavior was tolerated for.

The number of Antioch police officers swept into this racist messaging probe has gone from 17 (named by a judge) to 26 (based on the message threads) to now 45 police officers. Their department only has 100 officers. The report says Contra Costa County Public Defender Ellen McDonnell told the city council that the investigation had expanded across more officers and that 16 of the accused held leadership positions, per KRON4 News. If you remember, two of those leaders were identified as the police union president and a member of internal affairs.
Now, the texts are being used as a part of a civil rights investigation. The city council approved three audit requests for reviewing the department's internal affairs process, examining their hiring and promotion process and finally, looking at department equity practices and culture.
These allegations could not only cripple the department but also halt legal proceedings that may be stemmed from the alleged misconduct by the Antioch police.
Defense attorney Ellen McDonnell has asked District Attorney Diana Becton to dismiss all cases involving the public defender's office and Antioch police. Becton said she is reviewing cases for potential dismissal or resentencing. It's unclear how many cases are at stake.

"The public simply cannot have trust or confidence in any criminal prosecution involving the Antioch Police Department," McDonnell said in an email Wednesday. "No one should be charged with a crime based on the report of a police department so thoroughly riddled with corruption."
Based on the horrid text messages, officers spoke about violently arresting citizens, targeting Black drivers with traffic tickets and even making jokes about brutally beating them. Back in 2020, California passed the Racial Justice Act protecting citizens from a criminal conviction based on their race or ethnicity. Though this applies mainly to the conduct of attorneys, judges and jurors, prosecutors suspect the Antioch officers were also in violation based on the foul messages they shared about the Black community.
McDonnell said her office will do all they can for any victims of racist policing and the alleged "lawlessness" of the officers.