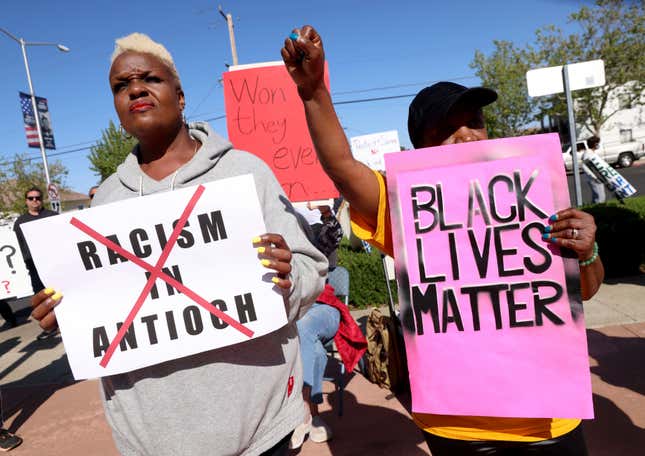 Goodness, gracious. Everywhere you turn, there is a new piece of information stemming from the ongoing Antioch Police Department scandal. It started with a couple of racist text messages (that turned into many) and has now resulted in several legal decisions that may be hard to keep up with.
Here are the top five moments in this scandal you need to be up to speed with.
1. Racist Texts Exposed
Whew... talk about absolutely disgusting. A judge ordered the Contra Costa County District Attorney's Office to release not only the names of the officers but copies of their racist correspondences.
They called Black folks circus animals, admitted to discriminating against Black drivers for traffic stops, boasted about violently beating Black suspects and endorsed the ugly behavior of their colleagues with an "LOL" and laughing emoji, per KRON4.
That's just a glimpse of their disturbing remarks.
2. The Mayor Goes AWF!
In one of those nasty messages, one officer wrote, "I'll buy someone a prime rib if they take that [expletive] Mayor Thorpe out, with a whatever type of weapon."
Mayor Lamar Thorpe, who is Black, was livid upon reading the message and said at the council meeting following the release that he was disgusted with the department, per CBS. However, one heckler defending the cops got underneath the mayor's skin and things got heated... like "You wanna go outside?!" heated.
Let's just say Mr. Mayor is fed up with the department's nonsense and the bigot sympathizers.
3. Civil Rights Lawsuit
A group of city residents not only protested for the termination of the officers involved but took some legal action as well. Civil rights attorney John Burris filed a federal lawsuit against the department on behalf of six city residents alleging members of the APD engaged in "vile" mistreatment of citizens and violated their civil rights.
4. Racial Justice Act Ruling
A Contra Costa Superior Court judge ruled that racial bias and racism had a hand in the charging of four city residents by the district attorney. Though the ruling didn't attribute the Antioch scandal as being directly related to the decision, the defendants in question claimed to be victims of the ADP's abuse, per ABC7.
The ruling ordered the gang enhancements to be dropped from each defendant, which guaranteed them life in prison. It was also the first ruling under California's Racial Justice Act, opening doors for other Black defendants to challenge their charges.
5. Egregious Charges Dropped
Two Antioch cops who were facing arson and mutilation charges in the death of Mykaella Sharlman are no longer going to stand trial because of the Antioch mess. Though the scandal came months after the death of Sharlman, the Contra Costa County DA decided to drop the case against them because their actions were investigated by the slimy APD cops accused of being racist bigots.
Sharlman was deceased when the cops found her, but they are accused of throwing her body in a dumpster and burning her body, per CBS News.