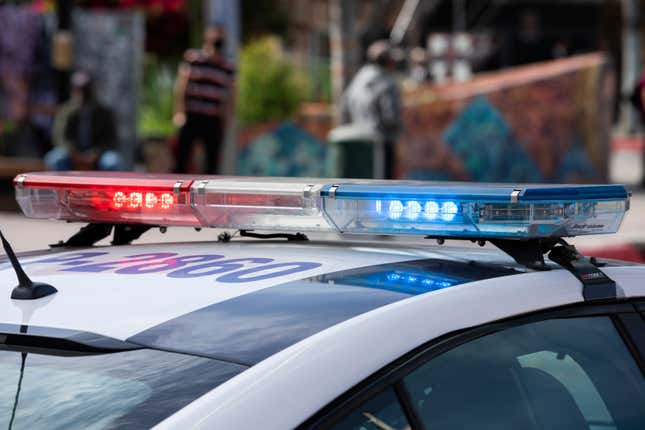 Updated as of 4/12/2023 at 1 p.m. ET
Following the release of the names of 17 Antioch, Ca. officers accused of exchanging racist text messages, Antioch Mayor Lamar Thorpe issued a response, saying the actions of the officers will leave an "embarrassing stain" on the community.
America's Got Talent Host, Terry Crews, Shows Full Gratitude For Writers On Strike
"The culture of the department requires further exploration including how the hell all this alleged misconduct could go on for so long without anyone on our command staff noticing. From lieutenant on up to chief," Thorpe said via YouTube.
However, following the composed, formal message to the public, Thorpe let those cops have it at the council meeting Tuesday night. He called for the firing of the 17 officers and an additional nine officers who were also accused of exchanging racist slurs, jokes and memes amongst one another. According to CBS News, one message directly threatened him which is what likely sent him over the edge.
"I'll buy someone a prime rib if they take that *bleep* Mayor Thorpe out, with a whatever type of weapon," read the message.
Thorpe said at once he relied on the police department to keep him and his family safe, particularly his daughter who he said is home alone sometimes. However, these messages have shattered his trust for them altogether.
"Get the hell out of here. These people can go... they can go fly a kite for all I care. Get out of my police department. We don't need them here," Thorpe said. "I'm disgusted. I'm blown away that there were threats to my personal life in those text messages."
The mayor also demanded an external audit of the department's internal affairs process going back six years.
FBI Probes Racist Texts and More
A county judge has released the names of 17 Antioch, Ca. police officers accused of some dirty business including but not exclusive to sharing messages riddled with racial slurs. According to the East Bay Times, their alleged misconduct is under investigation by the FBI. 

For over two years, this group of police officers have allegedly shared racist memes and jokes in their messages between one another. Contra Costa County Judge Clare Maier identified all of them, eight of whom were put on leave because of the texts, five who are already under FBI investigation and one of them being the president of the Antioch Police Association. The messages themselves were not disclosed but were described by the judge as "inciting future hate or racial animus."
Because of the "deeply disturbing" content targeting the Black and Hispanic community, Maier decided the officers were not entitled to anonymity under the state evidence code.
The messages, dating back to 2019, were discovered by the FBI weeks ago as a part of an investigation into conduct even more concerning than the racial memes.
Read more from the East Bay Times:
The existence of the text messages became known last month as a result of an ongoing federal probe into Antioch and Pittsburg police officers, but Friday's developments made clear just how many officers are involved in both scandals plaguing APD.

The FBI — which is investigating alleged fraud, bribery, drug distribution and civil rights violations related to the use of force — found the messages after agents served search warrants on a number of officers' homes and showed up at the police department to seize phones and other personal items.
Sheesh... that report is going to be brutal. This department is just the latest to be probed by a federal agency. The investigation even swept in three officers from the Pittsburg Police Department, per CBS News.
Louisville Metro police, Minneapolis police, Memphis police, Cleveland police and more departments around the country have been reviewed with a tight lens by either the Department of Justice or FBI for isolated cases or patterns of misconduct. The same ugly behavior is found in every report.