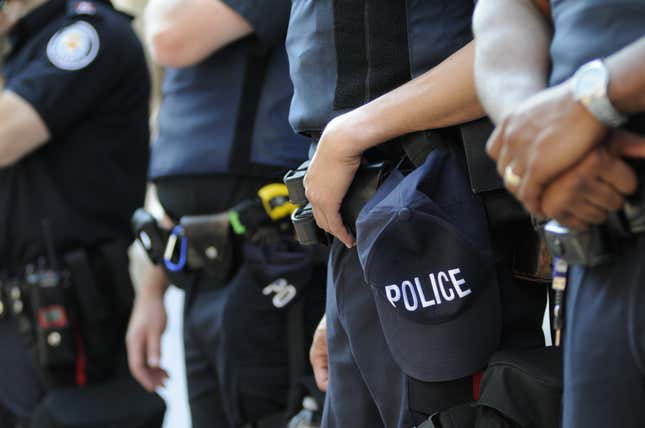 Last week, the city of Antioch erupted following the discovery that nearly 20 police officers were accused of exchanging racist messages with one another. According to Mercury News, their messages were enclosed in a private group chat, dating back years ago. Thanks to a Contra Costa judge, we can see what foolery they were saying.

ULTA Beauty Faces A Boycott For Being Trans-Inclusive In Their Marketing
The 21-investigative report includes the messages of over two dozen officers. They first came to light once the FBI and District Attorney's office launched an investigation into the officers, some of which were already on suspension while being investigated for alleged drug offenses and other misconduct.
Along with their full, government names, Contra Costa Superior Court Judge Clare Maier agree to release the messages without special evidence protections. 
Proceed with caution. It's about to get ignorant.
Threatening Black People
The Antioch officers joked about harming Black city residents and congratulated each other when they inflicted violence on them during arrests. As recently disclosed by Mayor Lamar Thorpe, officer John Ramirez offered to buy a prime rib dinner for any officer who shot him with a projectile that is commonly used on protestors.
In December 2020, Officer Eric Rombough sent Sgt. Joshua Evans a message mocking a Black man he arrested. "I was bummed that beast was so fat cuz he didn't bruise up very fast," he wrote. The man had his charges dropped after Rombough was named a suspect of criminal conduct.
Department Violations
The report revealed the officers made jokes about falsifying police reports. It also included messages of them making fun of pictures of Black men in the hospital, suffering injuries inflicted by other Antioch officers.
They also admitted to discriminating while on duty. Officers Calvin Prieto and Andrea Rodriguez messaged each other about targeting Black people with traffic tickets. "Make these niggas eat shit," read one of their messages.
Shameless Bigotry
Among the text messages were a slew of racial slurs. In one message, Sgt. Rick Hoffman said a woman called him a "racist cop" to which the president of the city's police union, laughed and responded, "Well, she has a point." Another officer boasted about his ability to use the N-word within his messages to supervisors and even internal affairs investigators.
It's unclear if it was Officer Evans, but while we're talking about him, he did send a text to his colleague, Officer Morteza Amiri, saying "I'll bury that nigger in my fields. And yes….it was a hard R on purpose."
"Haha there's no accidents with you on that," said Amiri.
More messages referred to Black residents as animals like "gorillas" and "monkeys." Officer Jonathan Adams suggested all Black people look the same, then put some extra spice on it, saying, "I feel like I'm at the zoo." They didn't just insult the Black community. Officer Rombough threw around the f-word in messages, referring to shooting a rubber bullet at an LGBT individual.
Reactions
As previously reported, Mayor Thorpe fumed at the discovery that his own police officers threatened to harm him. However, residents expressed during the council meeting Tuesday that they were not surprised to hear of the nonsense going on in the department. If anything, it was only a matter of time until the ugly truth came to light but they do expect the proper action to be taken.
"This comes as no surprise. I've been talking about what's going on out here since way before I moved out here, 30 or 40 years ago. It's disgusting, it's vile, and we're not going to tolerate this," one resident said, per SF Gate.