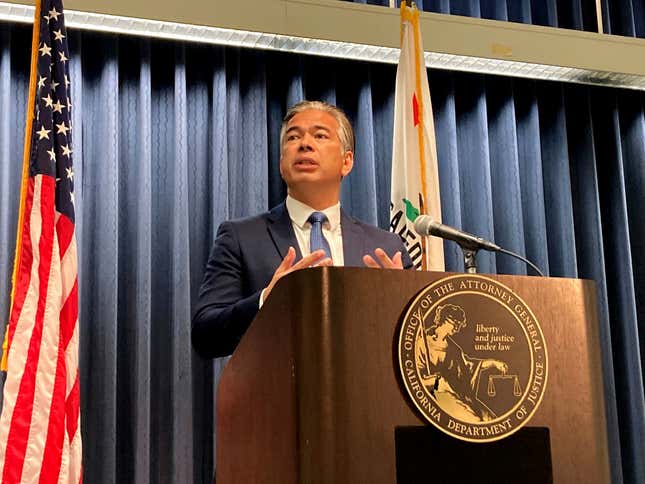 It's been one thing after the other since those horrid, racist text messages from the Antioch Police Department got leaked. Now, according to KTVU, California Attorney General Rob Bonta wants in on the scandal but by launching a civil rights investigation into the mess.

Afraid Of Losing Political Power, White People Weaponize "Identity Politics"
The investigation comes shortly after the Black and brown residents of Antioch spoke up about experiencing the racism from these police officers' messages firsthand, per the report. Three of them filed a civil suit alleging police brutality ranging from K-9 attacks to brutal beatings. All of these allegations, or what Bonta called "red flags," sparked the probe by the attorney general's office. In addition, he noted that data showed spikes in excessive force in Antioch, per East Bay Times.
"It's very disturbing, very concerning. We're moving in. We're going to get to the bottom of what's happening in the Antioch Police Department," he said in his announcement.
Read more from his statement:
The investigation will seek to determine whether the law enforcement agency has engaged in a pattern or practice of unconstitutional policing amid deeply concerning allegations relating to bigoted text messages and other potentially discriminatory misconduct. If, through this investigation, the Attorney General's Office determines that unlawful activity or practices took place, the office will also determine what potential actions are needed to ensure comprehensive corrective action takes place at APD.
The report says up to thirty eight Antioch police officers are swept into the investigation after exchanging messages with disgusting racist content from calling Black people monkeys to memes mocking the murder of George Floyd. One exchange made a racist threat toward Mayor Lamar Thorpe.
Antioch Police Chief Steven Ford said he welcomed outside oversight and that he pledged full cooperation with the state probe, per KTVU. On top of the civil suit from various residents and the criminal investigation into some of his officers, the pressure is definitely on.