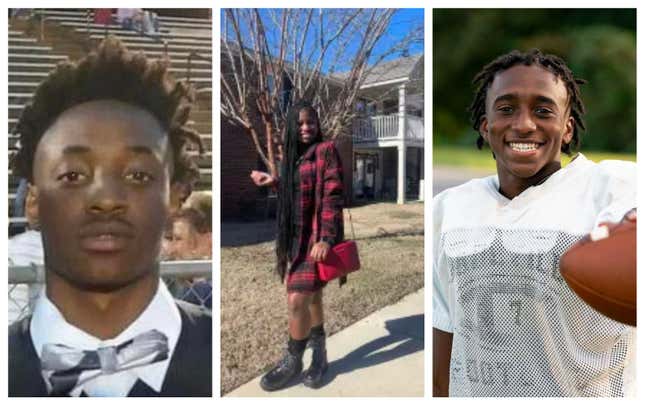 Updated as of 4/19/2023 at 12:00 p.m. ET
Two suspects have been arrested and criminally charged in connection to the shooting at a Sweet 16 birthday party, according to WYFF4 News. The incident left four dead and 32 injured.
The Biden And Trump Classified Documents Scandal Explained
The suspects arrested have been identified as 17-year-old Ty Reik McCullough and 16-year-old Travis McCullough, brothers from Tuskegee. The two were each charged with four counts of reckless murder, per Sgt. Jeremy Burkett from the Alabama Law Enforcement Agency in a press conference. They will be charged as adults. According to state law, they could each face 20 years to life in prison.
The local district attorney also gave an update on those still in recovery from sustaining injuries from the incident.
"We've still got four that are in the hospital, four that are in critical condition," said District Attorney Mike Segrest.
As for the birthday girl, who lost her brother in the shooting, Segrest shared that instead of blowing out her 16 candles and cutting her birthday cake as planned, she had to kneel beside her brother as he took his last breath.
The motive for the shooting is still unknown. Those who were injured at the party or witnessed the shooting have been asked to speak to investigators to learn more about the incident.
5 Things To Know About the Shooting
Four people were killed and dozens were left injured after a shooter opened fire at a Sweet 16 birthday party in Dadeville, Alabama, according to CNN. Authorities have not confirmed who the suspect is or if anyone is in custody in connection to the shooting.

The details of the case and the victims are still developing, but here are five things we know so far about the incident.
1. What Happened?
The party was held on the night of April 15 at Mahogany's Masterpiece dance studio. Many attendees were students at the Dadeville High School. Festivities were interrupted around 10:30 p.m. by a hail of gunshots into the crowd of teenagers and young adults.
Witnesses told the police they heard screaming from the venue as the shots rang out. Family members of the victims told local senior pastor Ben Haynes that an argument at the party sparked the shooting.
2. Fatalities and Injuries
Four people were confirmed dead. According to CNN, one victim was 17-year-old Shaunkivia "Keke" Smith, a high school senior who was poised to attend the University of Alabama in the fall. Another identified victim was 18-year-old Philstavious Dowdell, the older brother of the birthday girl. He was headed to play football at Alabama Jacksonville State University on scholarship. A father posted to Twitter that his son Marsiah Collins, 19, was also a victim and was supposed to be headed to LSU.
The fourth victim was 23-year-old Corbin Holston, whose mother told AL.com he was not a party attendee. She said he showed up at the event to make sure everyone was okay after he received a concerning call from his relative who was there.
Reports say 28 people sustained injuries related to the shooting. Fifteen of the injured are teenagers, four are stable, and five are in critical condition, according to a hospital spokesperson.
3. The Pending Investigation
The Dadeville Police Department, Tallapoosa County Sheriff's Office, Bureau of Alcohol, Tobacco, Firearms and Explosives, 5th Circuit District Attorneys Office and FBI have responded to the incident and are assisting with the investigation.
Two suspects have been arrested. However, there is still no information their motive. In a press conference, Senior Trooper Jeremy Burkett asked for the public to provide any tips by calling 1-800-392-8011 or emailing sbi.investigation@alea.gov. Central Alabama Crime Stoppers are also offering a reward for any information.
4.Officials Respond
Alabama Governor Kay Ivey issued a statement about the incident via social media.
"This morning, I grieve with the people of Dadeville and my fellow Alabamians. Violent crime has NO place in our state, and we are staying closely updated by law enforcement as details emerge," she tweeted.
Dadeville Mayor Jimmy Goodman spoke with local residents and told reporters they were in shock and trying to cope the best they could with the tragedy.
5.Response from the White House
President Biden was briefed on the incident and issued a statement giving his condolences to the grieving families.
"Jill and I are praying for their families, and for the many others injured and fighting for their lives. What has our nation come to when children cannot attend a birthday party without fear? When parents have to worry about their children every time they walk out the door? Americans agree and want lawmakers to act on commonsense gun safety reforms," Biden said in a statement.