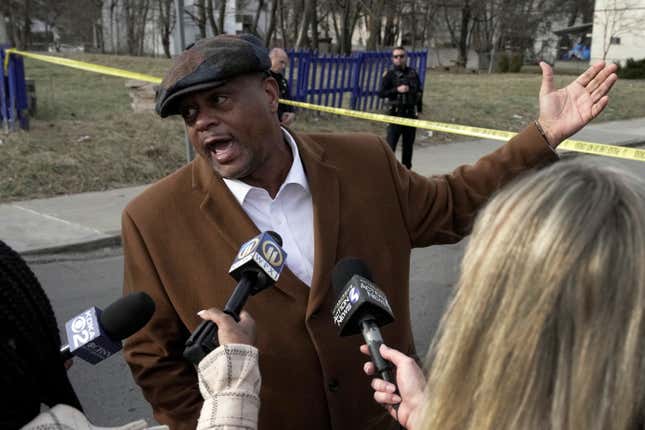 America's most famous mass shooting this week was Monday's killing of three students and wounding of five others at Michigan State University, another in the country's long, bloody and entirely unnecessary history of mass murder with high-powered guns. The Michigan State murders were tragic, needless and enraging. But depending on which of the varied definitions of mass shootings you follow, it wasn't the only one in the past few days.

It wasn't even the only one at a school.
Courtney B. Vance in Heist 88 Is Our Black TV Pick of the Week
On Tuesday, four students were shot as they left Westinghouse Academy, a high school in Pittsburgh's Homewood neighborhood, at the end of the school day. All four survived and are expected to recover. No suspects or motive have been named, and the remainder of Westinghouse's students have been learning remotely ever since.

I'll tell you up front about my personal connection to Westinghouse: I graduated from the school in 1995, when Pittsburgh, Homewood specifically, was in one of its most violent eras. Several times while I was a student there, I had classmates who were either wounded or shot to death. Even in the midst of that violence, there was never an actual mass shooting at or near the school, which makes me question–among other things– how it is that such a story hasn't made national headlines. Yes, school shootings are an unfortunately common occurrence in 2023, but four students shot at once in front of a high school in a major city on a random Tuesday is the kind of thing that usually gets at least a mention in the national press.
But if I'm guessing right, unless you live in Pittsburgh, you were today years old the first time you heard of this particular episode, and I'll venture another guess as to why that is: because when gun violence, even at scale, happens in poor, Black communities, most media and politicians treat it differently than when it happens in middle class or wealthy white ones. That's a broad generalization with notable exceptions. The Uvalde massacre, for example, happened in a majority-Hispanic community where median household income is just above $46,000 a year. But the violence there–21 dead, including 19 elementary school children–and the tales of gross incompetence by local police, made that a story that was impossible regardless of where it happened.

The students shot Tuesday were exiting Westinghouse into one of Pittsburgh's blackest, poorest and most violent neighborhoods–a stark distinction in a city where data has already spelled out racial equity outcomes that rank quality of life near the bottom among American cities for its Black residents. At large, being a predominantly Black neighborhood doesn't make a community inherently poor or violent, although in Pittsburgh and elsewhere, poverty and violence do closely track historical patterns of segregation and disinvestment.

What also closely mirrors those patterns is a casualness with which instances of violence are treated by media and sometimes even local officials. It's hard to believe, for instance, that had four teenagers been shot leaving school in one of Pittsburgh's wealthier, whiter suburbs—say Mount Lebanon, a borough of roughly 33,000 that's 90 percent white with a median household income of more than $107,000–that the story wouldn't have drawn more interest and inquiry. Why, I can imagine NBC's Lester Holt asking in his prime time slot, did violence visit here, in such an enclave of safety and privilege?

The question we should all be asking is why mass shootings are tolerated anywhere, for any reason, and it's worth asking every single time it happens.