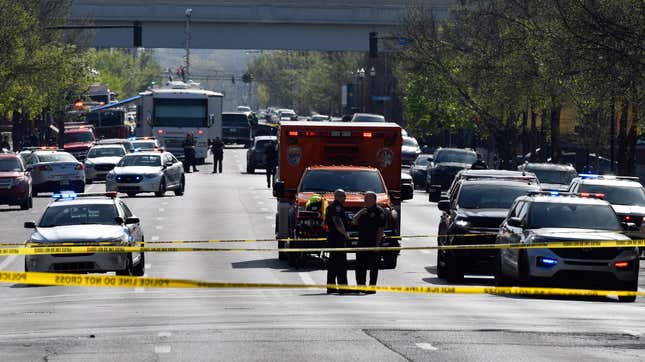 On Monday (April 10), at least four people have were killed in a shooting at a bank in Louisville, Kentucky, according to police. In addition, at least eight people were transported to a hospital, and two officers were shot. One of them is in critical condition. The shooter was also killed at the scene.
The Biden And Trump Classified Documents Scandal Explained
CNN reported that police said the shooter was a "lone gunman" and a former bank employee. Officers responded within three minutes of the call earlier this morning and encountered the suspect "almost immediately," Louisville Metro Police Deputy Chief Paul Humphrey said during a press briefing.
The suspect was still firing gunshots, the chief stated. Law enforcement officials exchanged fire with the shooter who was killed at the scene, Humphrey detailed. CNN also reported that the shooter used an AR-15-style rifle. Officers are trying to figure out whether the shooter died from gunfire or a self-inflicted wound.
In response to yet another mass shooting, President Biden took to social media to express outrage and demand change. "Once again, our nation mourns after a senseless act of gun violence – Jill and I pray for the lives lost and impacted by today's shooting," he wrote.
"Too many Americans are paying for the price of inaction with their lives. When will Republicans in Congress act to protect our communities?" However, likelihood of a divided Congress to take any kind of legislative action is doubtful.
According to a Justice Department spokesperson, Attorney General Merrick Garland has been briefed on the deadly Louisville bank shooting. Like Biden, Democratic Louisville Rep. Morgan McGarvery went on Twitter to express sadness about the tragedy in his district.
"Today is a dark day in our community. I'm heartbroken by the loss of at least four innocent Louisvillians in yet another act of senseless gun violence, this time in the heart of our city, and I'm grateful for the heroic acts of first responders who no doubt saved lives today." McGarvery also said he hopes his community can move forward together.